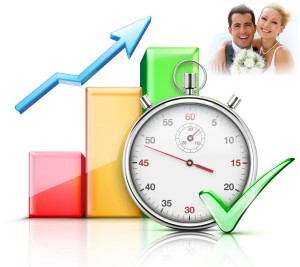 You would be surprised how often I have to encourage my clients to put relationships first in their lives. You would think a person willing to spend money on a relationship consultant would already be maximizing their own personal effort in that area of their lives. Surprisingly, that's not always the case.
Some of the people, who hire me, have more money than time. They are busy in professional jobs that yield tangible results at the end of a workday. They need to ship an item, or complete a report, or call on a business partner to make a proposal. Any of these things can be completed in twenty minutes and crossed off their list, yielding that pleasurable sense of accomplishment that drove them to become a successful business person in the first place.
There's a tendency among successful and driven women to shift their energy and attention gradually away from relationships, because the outcomes achieved from effort in that area of their life is not always tangible. It's hard to measure. It doesn't yield that positive sense of accomplishment.
When your time is limited, you will automatically gravitate toward the activities that yield a sense of accomplishment. Busy women in the workplace are often stretched between work demands, family demands, sometimes the needs of children, and a host of other things that compete with their energy for developing and pursuing good dating prospects.
When you're stretched this far, the intangible benefits of consistently taking action to find and attract a great partner ends up falling by the wayside. I've even seen this pattern in college students who are of a driven sort of personality with multiple time demands.
I remember one college student, in particular, who was the focus of much positive attention from her male counterparts. Her name was Kelsey, and I have to say, she was hot! However, she never developed any kind of serious dating relationship during her four years of college because she never seemed to have the time.
Kelsey made time for being class president. She made time for academic study in preparation for law school. But when it came to dating, it was always a thought and a strategy, but never a series of sustained actions to bring about a real-life result.
She kept thinking she would get around to it. Unfortunately, the urgent demands on her time usurped the things she claimed were most important to her. If this pattern persists in her life, you can bet she will have a successful career, but a series of deflating and unsuccessful relationships.
I call this the "tyranny of the urgent." In other words, your life is being controlled by a tyrant named "Urgent!" The urgent things in life always have deadlines. However, some of the most important things in life have no deadlines. As a result, we neglect some of the most important things in our life.
Don't let this happen to you! And before you decide it won't because you don't have such a driven personality, let me point out something that could sneak up on you if you're not careful. It's quitting too soon when your progress is invisible. I'll explain.
In relationships, you often make tremendous leaps forward without even realizing it. Very often, the moments when a person really starts to fall for you, happens outside of your awareness. They don't do or say anything that gives away the sudden change in their affections, but the changes are real, even if they are invisible to you.
More common than busy executives giving up on taking consistent action, are "normal" women giving up on great relationships because they don't realize they are making progress. I can't tell you how many times I've heard a man explain in exasperated tones that he was just beginning to enjoy the relationship when she called it quits because she didn't think he was invested.
Men often move more slowly in expression of their heart's desire. They are also slower to recognize the feelings that are building within their hearts. Men are just less tuned in to our own emotional connections with people. We sometimes don't feel the pain of regret until someone is gone!
Here's the take-home message. Progress in relationships with men often occurs invisibly. It's happening, but you just don't see it (at least not right away). If you consistently take the actions, I recommend in my training courses, you can be assured that you are making progress and doing the right things that will yield the blissful relationship outcomes we both want for you.
P.S. if you have not already invested in your understanding of men and effective dating methods that work in the current era, you really owe it to yourself to see what you've been missing! Take a look at the single most important factor that influences the way men experience love by clicking here to watch a free presentation on what men secretly want.