Get Your Ex Back
Discover the secret to reconnecting with your ex so that he comes back, opens up his true self, and rebuilds an unbreakable bond of intimacy that will last a lifetime.
Get Him Back Presentation
Get Your Ex Back
Getting back with an ex lover can bring a wonderful sense of hope and joy, especially if you can regain the love, trust, and security you once shared.
There is a strong emotional connection that can be rekindled, and it's a beautiful thing when a couple can muster the courage and devotion to get back together and rekindle the passion they once shared.
If you want to get your ex back, check out the articles below to understand everything you need to know about rewriting broken relationships.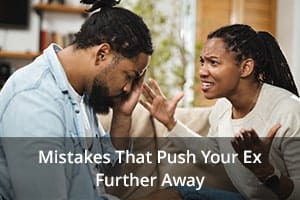 Yes, you've broken up, but is a relationship ever REALLY over? You can toss out his sweatshirt, he can throw away the cards you gave him, but the memories you...
read more
14 Days to Becoming Irresistible
There's a secret to why men pull away and how to get your ex back. Most women don't get this for one simple reason.
Enter your email to discover the truth in our FREE 14 Days to Becoming Irresistible email series.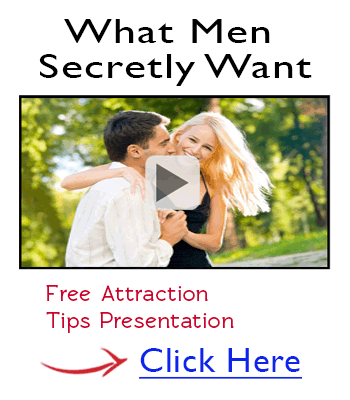 When Kate came to me, she had a very specific goal. She was in a complicated situation with a man. They'd been together for some time. Recently he'd pulled away. He told her he wasn't sure what he wanted anymore. Their relationship wasn't "doing it" for him. He needed...
You remember, don't you, all those times you felt so close to him that time stood still? There was no one else in the world. Just you and him. Love wrapping you in a cocoon of happiness. There was only one thing you needed for it to be perfect: The knowledge that this...
You'd think it would be so easy. If someone texts you, text them back. If someone calls you, call them back. If someone DMs you, message them back. So why, then, have so few men got the message? Angelika was sure her new love interest was ignoring her. She'd left him...
You knew you said the wrong thing the instant it came out of your mouth. You could see it in his face. The instant coldness. The refusal to look at you. The blunt way he said he had to leave. You gave him a few days to let it blow over, then you messaged him with a...
You know the instant he starts to push you away. You can feel it. He doesn't look at you. His kisses are cold. He makes plans for himself without you. That's when the panic hits. You're losing him. You know it. You've got to do something to save your love. You've got...
If you can't stop thinking about a guy… Does that mean you're meant to be together? If this guy really didn't matter, then surely you'd forget about him. Instead, you find yourself thinking of him at odd moments... Wondering what he's doing now… Remembering funny...
Should you pursue a man when he seems to be pulling away? Sometimes it's hard to know. So I've created a decision flowchart to help you decide. When you really like a guy, giving up just feels wrong. Especially if both of you have invested a lot in the relationship....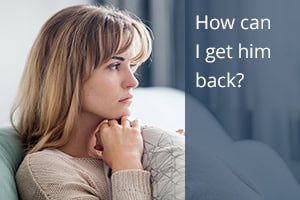 This article is part of James Bauer's top four relationship question. We had a fight and sort of broke up. Now I want him back. What can I do? Try using reciprocity. There is a powerful urge in human nature to return a favor. Sales people all over the world have...
In the movies, some life event throws a couple back together. Usually it's a hardship they face as a team. This ends up leading to a natural rekindling of love between two people who really were meant for each other all along. The key is a shared enemy and a...
Discover Why Men Pull Away
There is a deep-seated "Gap" in communication that very few women (or men) understand. It's the #1 reason why men pull away. To be truly irresistible to a man, you MUST understand this gap, and the way feelings of love get confused and entangled in a man's mind.
I have read the entire program. Last night I decided I had nothing to lose and texted him the 12-word magic text. He replied this morning apologizing for missing my text last night. I replied using "Rachel's" template. It was almost the exact word for word exchange.
I was completely stunned! We finally connected this evening and talked for 40 minutes on the phone. He didn't declare his love for me but we haven't spoken since the night we broke up in March! He sounded relaxed and happy. I have no idea what will happen from here but it's definitely a "foot in the door".
I'm truly grateful for your program. It makes so much sense! Thank you!!