Ready To Understand Men
Discover the secret to connecting with a man so that he opens up his true self, the part that's reserved only for you, and builds an unbreakable bond of intimacy that will last a lifetime.
Learn More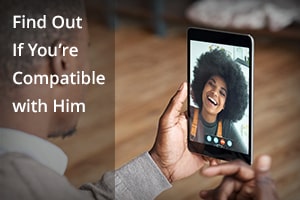 Dan Ariely doesn't like online dating. The term is all wrong, he says. There's no dating happening online. Instead, he jokes, they should call it "online...
read more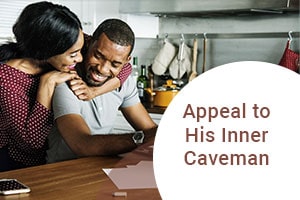 You spend so much time sifting through online dating profiles. You spend so much time exchanging messages, trying to be flirtatious, hoping it will go somewhere. You spend so much time vetting these guys, deciding whether you want to meet, working out the when and...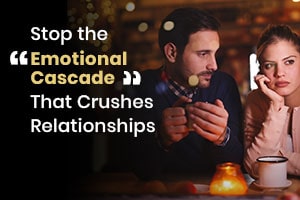 It can go downhill so fast. You've met someone you really like, you have a great time with him, and you appreciate the way he shows up on time and treats you like a queen. Then it starts. He shows up late. He says something rude to you and laughs it off. He blames you...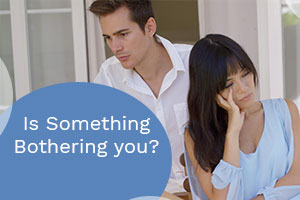 He's great. He's better than 90% of the guys out there. You can think of a lot of things you like about him. He's kind. He's thoughtful. He's funny. But… He's not perfect. There's this thing about him that annoys you. Maybe it's that gross sound he makes when eating…...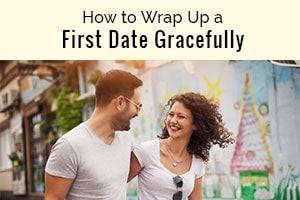 You think it went well. You had a nice chat. There was a little flirting going on. He seemed comfortable with you. Then it was time to go. You could tell he was ready. The quiet stretches grew longer. He kept shifting in his seat. You kept waiting for him to say, "It...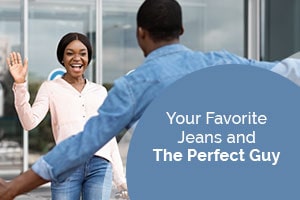 You're going shopping, you walk into the store, and you see some jeans. These jeans look AMAZING. You love this brand, they're completely affordable, and you've seen celebrities wearing these exact jeans. There's nothing else that catches your eye, and you feel like...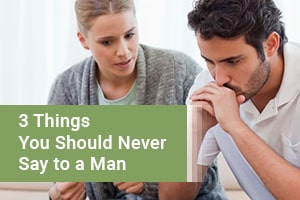 Everything is going great. You're talking. You're laughing. You're having fun. Then you say something—you can't even remember what now—and you can immediately tell it was the wrong thing. His face becomes expressionless. He doesn't reply. His energy chills. No matter...
He spends more time at work than he does with you. Sometimes it feels like he cares more about work than he cares about you. Does that mean he's half-out of this relationship? Are you always going to be second priority to him, after his boss? You might be surprised to...
Have you looked on Tinder lately? Tons and tons and TONS of men… But hardly any dead ringers for Mr. Right. As you scroll through profiles on your dating app of choice, you sigh. Where are all the high-quality men hiding? It's like finding a needle in a haystack. You...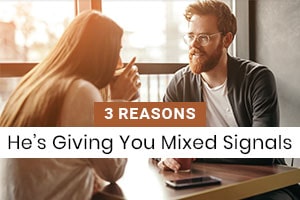 He's doing it to mess with your head. At least, that's what it FEELS like. If he really cared about you and what you have together, then he wouldn't give you mixed signals, right? He'd be consistent. He'd say how he felt. Instead, you're stuck wondering why he never...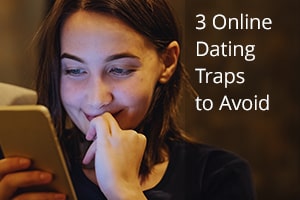 When you see a guy's profile, you instantly know whether he's a catch. You just get a FEELING about him. You look at his picture. You read between the lines of his profile. You imagine him in your head. Then you start writing back and forth to each other… And you...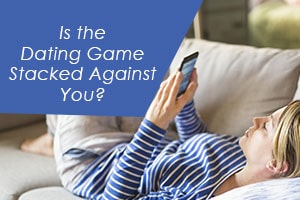 Have you ever felt that online dating is stacked against you… Unless you're incredibly photogenic, in your twenties, and live in a metropolitan area packed with singles? Most men won't even see your profile because of their filters. That's because online dating...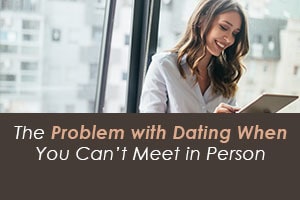 "How can you meet anyone without the internet?" Kasey was asking a rhetorical question. She honestly didn't believe there was any other way for her to meet a man. Since switching to a job working entirely from home, she relied on social media as her only opportunity...
Discover What Men Secret Want
There is a deep-seated "Gap" in communication that very few women (or men) understand. It's the #1 reason why men pull away. To be truly irresistible to a man, you MUST understand this gap, and the way feelings of love get confused and entangled in a man's mind.
I have read the entire program. Last night I decided I had nothing to lose and texted him the 12-word magic text. He replied this morning apologizing for missing my text last night. I replied using "Rachel's" template. It was almost the exact word for word exchange.
I was completely stunned! We finally connected this evening and talked for 40 minutes on the phone. He didn't declare his love for me but we haven't spoken since the night we broke up in March! He sounded relaxed and happy. I have no idea what will happen from here but it's definitely a "foot in the door".
I'm truly grateful for your program. It makes so much sense! Thank you!!