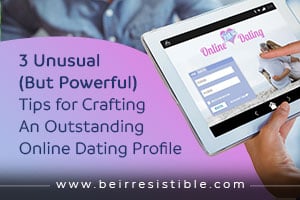 Many of my clients met their perfect partner online.
The numbers keep growing. Half of all American singles have done an online dating profile, and 40% have dated someone they met online.
It's hard to remember there was ever a stigma against online dating. (It's even harder to remember those old personal ads in the newspaper!)
After so many years, you'd think the quality of the average online dating profile would have improved enormously.
After all, most people know what they're doing now. For many, this isn't their first profile. They know the game. They know how it's played.
And yet…
If you go online and have a quick browse of singles in your area, you'll notice something:
Most profiles don't do justice to the interesting person who created it.
In fact, some are pretty bad.
Men who've taken their profile picture in the bathroom, from the worst possible angle, with the worst possible lighting.
Pictures where his face is covered up by a hat, dark glasses, or cut out of the frame.
Pictures of nice men with what can only be described as serial-killer expressions.
What's going on?
Were these men born yesterday?
It's easy to see what makes a dating profile stand out. The lighting is great, the guy is smiling, and his "About me" statement is articulate, thoughtful, and grammatically correct.
These men get swamped with winks and messages. Their profiles are so much better than everyone else's that there's no real competition.
Would you like your profile to stand out in the same way?
You can make it happen, and I'll show you how.
Approach your profile with the same professional attitude you'd take towards your résumé.
Start crafting it well in advance of setting up your account. You get the most traffic when you're a newbie, and you don't want to waste even a day of that "new kid" attention. You want to make a memorable first impression from the moment you launch that profile out into the world.
So take a week or two to really think about how you want to portray yourself. Keep potential profile pics in a special folder, so you have plenty to choose from. Draft answers to the questions you'll be asked.
That way, when it's time to set up an account, your smartest ideas from the past two weeks of thinking will make your profile amazing.
Here are 3 more unusual but extremely powerful tips that will make your profile standing out from the crowd.
Tip #1. Check out other women.
Have you noticed how all profiles start to look alike after a while?
They include the same tired clichés. He's romantic, he's loyal, he's a good guy, he's easy going, he likes walks on the beach and cooking you dinner.
Sure, those traits are wonderful. But not when it sounds like a template.
Men experience the same thing. The more profiles they look at, the more all the women look the same. No one includes anything new or fresh or surprising.
Want to know the best way to avoid that trap?
Go online and check out your competition.
Seriously.
Many online dating sites allow you to browse anonymously. Look at profiles of women in your age range and geographical location. What do their profiles have in common? What's unique about the profiles that stand out?
Then use that information to make sure your profile is unforgettable.
Tip #2. Keep it short.
Focus 90% of your time and effort on your profile pics, and only 10% on describing yourself.
Why?
Because your picture is what men look at first. If they don't connect with you visually, they won't click on your profile to read what you've written about yourself.
In fact, many men won't ever read what you've written about yourself—even if they like your picture!
So keep your personal statement short and sweet. Give men intriguing topics to ask you about, rather than writing the definitive answer to what you want in a partner.
Tip #3. Don't pose for the camera.
Selfies are dead.
And for good reason. No one looks their best faking it for a phone.
You can tell the difference between a fake smile and a real smile, and so can he. He wants to see you happy and laughing … not smiling nervously as you hold your phone up to your face.
So don't take your own profile pic. Get a friend to help. Someone you feel completely at ease with. Someone who can make you laugh like no one else.
Then go out to a beautiful natural spot at dusk. Get playful. Have your friend take pics of you in action: throwing leaves in the air, examining seashells, leaning against a tree. Lose yourself in the moment.
Not only will your pictures stand out, but they'll look like the REAL you.
And he won't be able to resist finding out more.