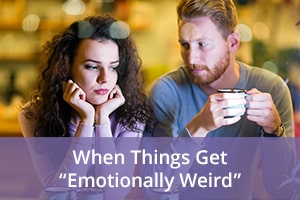 Meghan was enjoying her new companion.
They had great conversations. He was so interesting. They shared a lot of the same opinions about the world.
And he was so generous and thoughtful.
He picked up pretty rocks for her, because he knew she collected them.
He was always offering her something, like snacks, fun options, or something he'd bought and ended up with too many.
She thought everything was going great until…
He started saying little things.
Things that seemed like he was mad at her.
Such as the time he accused her of rushing him out the door when he stopped by her house one weekend.
"It was like you didn't even want to see me," he said.
She explained that she'd been on a tight schedule and that she was so sorry that her behavior had come across like that.
She thought he understood, but something similar happened a week later.
They'd met up for a stroll, and he told her, "You're going to be so happy about this!"
"What is it?" she asked with a smile.
"You're going to be rid of me for a few days. I've got to go out of town."
She was speechless.
When Meghan came to me, she wanted to know how to handle the situation. Should she say anything to him about his strange behavior? Things had been so good up until this point.
What I told her was this:
When things get "emotionally weird" with a guy, you need to pay attention. Here's why.
3 Signs Things are Getting Weird
The phrase "emotionally weird" is not scientifically accurate in ANY sense, but it's useful.
We can all tell when things are getting emotionally weird. Maybe we can't explain it, but we know.
If you get that feeling, TRUST it. It's a message from your gut telling you that things are not what they seem.
Sometimes it can help to talk to a trusted friend about what's going on, like Meghan did with me.
After talking together, we were able to pin down the 3 things that were bothering her the most.
Sign #1.
He makes assumptions about your motives, thoughts, and feelings.
Any time a man says that you were thinking X or you were feeling Y, he's making a guess about your internal state and presenting it as fact.
No one can see inside another person's mind. Especially when you don't know each other very well!
Because we're not mind readers, we have to communicate, which is why it's so important to do a lot of talking and checking in during the early days of a relationship.
Instead of jumping to the conclusion that you know what he's thinking or feeling, ask him to clarify.
Research professor and bestselling author Brené Brown recommends using this phrase:
"The story I'm telling myself is…"
This gives the other person a heads-up that you've interpreted their behavior in a way that you're not sure is true.
Imagine how differently Meghan would have felt if her guy had said:
"I noticed you were in a hurry when I dropped by your house over the weekend. The story I'm telling myself is that you didn't want to see me."
That phrase turns an uncomfortable situation into an opportunity to get vulnerable with each other.
Sign #2.
He expects quid pro quo for everything he does for you.
Meghan thought it was lovely that her new guy was offering to do things for her, but sometimes he dropped comments like, "You didn't thank me," after he'd helped her.
Meghan couldn't understand why he'd say that, especially when she knew she'd showed her gratitude profusely.
She started to get the feeling that he was implying that she was using him, even though she'd never asked him to do those nice things for her. He was the one who'd offered.
Some people see a relationship as a needs exchange. They expect to be "paid" for the effort they put into the relationship. Their motto is:
"I do this for you, and you do this for me."
This dynamic is toxic for relationships.
Great relationships are built on a foundation of generosity.
Do what you do because it pleases you to support the other person, not because you're expecting them to pay you back.
Sign #3.
He blindsides you.
If you find yourself feeling shocked or surprised by comments that come out of nowhere, pay attention.
Often, that's a sign you're with someone who doesn't know how to be direct about his feelings and concerns.
The Mayo Clinic defines passive-aggressive behavior as "a pattern of indirectly expressing negative feelings instead of openly addressing them."[1]
It takes a toll on relationships. You find yourself constantly trying to manage his hurt feelings without ever really understanding what is going on.
If a guy's behavior leads you to believe he's mad at you for something, but he won't come out and talk about it, think about how that pattern of behavior is going to feel years down the road.
Do you want to end up stuck in a relationship where you're constantly trying to manage someone else's feelings?
Or would you prefer to be with someone who talks to you up front about what's going on, even when it's difficult?
For Meghan, it helped to see exactly why she was reacting the way she was. She decided to treat his behavior as red flags and broke off the relationship.
"At least I know what to look for next time, James!" she said.
If things start getting weird, trust your gut. Your intuition can catch things your conscious mind can't see.
---
[1] https://www.mayoclinic.org/healthy-lifestyle/adult-health/expert-answers/passive-aggressive-behavior/faq-20057901