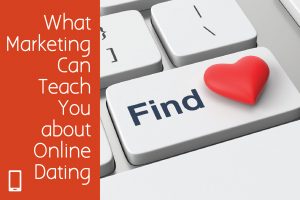 Online dating is just marketing.
Of course, I'm talking about the very first stage of interaction. The stage where you grab a man's attention.
The better you are at marketing a product, the better you do. And in this case, the "product" is the opportunity to meet you or get to know you.
Just remember, your online profile is not you. It's just an advertisement designed to spark interest in getting to know you.
Taking a marketing approach to online dating can pay off hugely. It takes the stress off. You get more hits. You waste less time on guys who aren't going to "make the sale," e.g. meet you in person.
So how does it work?
Treat your profile as an ad.
Think about the ads that catch your attention. Good ads can be funny, inspirational, or beautiful. They stand out. They stick in your head. That's your goal with your profile.
Every ad has three main components: images, headlines, and the body of the ad.
It's the same in online dating. You have the photograph that illustrates the product (you), a headline designed to catch attention, and space to describe who you are and what you're looking for.
Images are the most important component of your profile. If your time is limited, spend 90% of your time on the pictures and the other 10% filling out the text.
The best photographs give an insight into your personality and make the viewer curious about you. Always edit your images before uploading. A good photo editing program can make almost any image look intriguing through the use of cropping or filters.
The headline, which in most cases is your "handle" or nickname, should also create curiosity. Don't go for the straight undiluted truth. Choose a catchy nickname that compels the viewer to find out more about you.
Lastly, the body of the ad—your personal description—should be short, sweet, and intriguing. Don't just list personality traits. Take the opportunity to show the viewer what he could expect if he went on a date with you. What would he like best about being with you? What makes you fun? How would you be different from the other women he's met?
The first sentence of your description is the most important, so spend most of your time crafting the ideal intro. Don't feel concerned about explaining who you are in such a short space. He'll learn who you are when he meets you. The goal of the profile is to get him interested enough in you to make contact.
Regularly evaluate your ad's performance.
If you're not getting the hits you want, then don't jump to conclusions. This isn't about you. Men aren't rejecting you as a person. They can't, because they don't even know you! They're simply not interested in your ad.
It's the profile that's under performing, not you. So fix it.
How? Test specific changes.
Good marketers test everything. They test images and headlines ruthlessly. Even a one-word change can make a huge difference in the performance of an ad.
So test your profile. Change your profile picture regularly and see if it makes any difference. Vary the length of your personal description. Test the first sentence.
Another advantage of changing around your profile is that men who didn't notice your profile the first time around may notice it once it's different.
Get the sale.
Online dating can waste a lot of time. You can spend weeks chatting to someone you really like, only for him to disappear without a word. So keep your eye on the goal: to meet a man in person.
One third of online daters have never met anyone off-line. A lot of men are online simply to test the waters and flirt. They're never going to arrange a meeting in person.
Good marketers know that some prospects are never going to commit to putting their hard-earned money where their mouth is. So don't get too excited about men who seem interested but never get around to asking you to meet up. You haven't made the sale until you've committed to seeing one another face-to-face.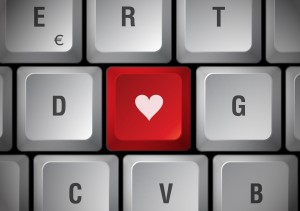 After a week of communicating with someone, you should know whether or not you're interested in getting to know him better. Let him know you'd like to take this off-line.
If he avoids committing, even to something as simple as a quick coffee date, then you know that he's not available for the kind of relationship you want.
Treating an online profile like an ad can take a lot of the heartache out of online dating. It's not so important that you get the profile right the first time. What's important is that you keep testing it until it works the way you want.
Remember: your online dating profile isn't you. It's just an ad. Some ads are better than others. The only thing standing between you and an avalanche of responses could be a little tweaking.