The Secret To Creating
Unforgettable First Date Chemistry!
If you've ever had a first date fall flat right in front of
you, you need this step-by-step formula to making it
a date he'll never forget!
From: James Bauer
Re: Is it really that easy to have a successful first date?
Dear Friend,
Do you find yourself going on an endless stream of first dates?
You meet someone online or through mutual friends and you agree to go out and get to know each other better.
You take the time to get ready and look your best.
You're anxious, nervous, and excited all at the same time wondering how the night will end up.
Only you meet the guy, you're not sure what to say to him, and the night ends up being a total waste of time.
Does this sound like you?
If it does, don't worry, you're not the only one who does this.
Most women make the crucial mistake of focusing on building a relationship starting with the first date. Instead of enjoying themselves in the moment, they're already thinking of the future and the goals they want to achieve in a relationship.
I've seen it many times. And one of the reasons is because it's so hard to actually enjoy yourself in the moment if it feels like so much is on the line.
But how can you let go any enjoy yourself wen there's so much on your mind?
Learn How To Change Your Focus So That Living In The Moment Becomes Automatic!
Listen, there's no doubt that going on a first date can be an overwhelming experience.
It's hard not to focus on how you look, what to wear, what to say, etc. You worry about if you'll like him, if he'll like you and you end up forgetting why you're really there in the first place.
That's why I have written a new Irresistible Insights mini-course called:
The Secret to First Date Chemistry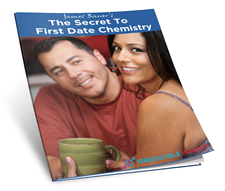 And it reveals in step-by-step detail how to focus on the actual experience itself so you can have better success on your dates (And most importantly, enjoy yourself!).
As a relationship coach and dating expert, many women have reached out to me over my career and have told me that they find themselves constantly stressing over what will happen on their first dates. They feel like they can't enjoy themselves and they're constantly worried if the night will go well.
I've been fortunate to consult with hundreds of women in their relationships. And in order to help these women, I often search through piles of research papers, relationship and psychology books, and especially my own notes to find answers they can use.
I have collected all of these findings into The Secret to First Date Chemistry!
This mini-course will transform you into one of the most magnetic, engaging, and attractive people he's ever been on a date with in the shortest amount of time possible.
With The Secret to First Date Chemistry, you can:
Discover the only thing you should be focusing on every time you go out on a date
Understand the one simple goal that will enhance your experience and truly attract men to you
Learn seven key differences in women who were asked out for second or third dates compared to those who were not
Understand the difference of how men view relationship-status compared to women
Even though my mini-course is only 20 pages, it's packed full of relevant information to help you…
Build Alluring Qualities That Will Attract Your Dates, And Lead To Many More Dates If You Want Them.
When you start to focus on your beliefs and goals, you can be prepared to:
Harness the secret power of "joy" to attract the right man
Learn how to eliminate the fear of rejection by emphasizing your most cherished beliefs
Know what to talk about and ask your date so that you can avoid awkward silences and keep the conversation flowing
Learn tips and simple strategies on how to look and feel on your dates in order to boost your confidence
At this point, you may be wondering how much my mini-course costs when it contains such vital information.
I Want To Make You A Limited Time Offer of $9
Why it's just $9
I'm only charging $9 for this Irresistible Insight mini-course, for 3
reasons:
$9 puts the mini-course within reach of pretty much everyone.
It's important to me that you have the answer now, instead of putting it off because you have to save for it.
If you've followed my work at all, you know I believe that making a
commitment to something (even a $9 one) helps you to take it
seriously and actually follow through on reading and using it.
I believe in providing incredible value because I know that's the
best way for you to be excited about this information,
enthusiastically use it, and tell your friends going through the
same thing about it. The goal here is to help you make a decision
that will lead to your happiness, and this is the guide that can do
it.
If you're thinking, "$9 is so cheap! What's the catch?" … there's
none.
I've devoted my life to helping women realize their full potential and getting the happiness they deserve, and I never want price to be an issue…
I just want you to get real results as soon as possible.
All you have to do is take advantage of this by clicking the "Buy Now" button below.
Oh, and I should mention, as always, this is covered by my iron-clad
100% guarantee…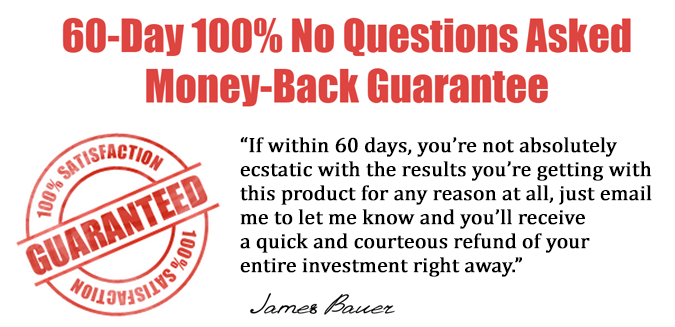 It's of the utmost importance to me that you achieve the peace of mind
and happiness you deserve.
I'm so confident that these proven principles will work for you and
get you the love and commitment you desire, that I'm willing to take
on ALL the risk and put my money where my mouth is.
Sound fair?
Lets Get Started!
Click on the button below to take advantage of this special offer before it goes away!
Get Instant Access To "The Secret to First Date Chemistry"
Yes! James, I want to get my hands on this mini-course so I can start having first dates men will never forget!!
I understand I will receive INSTANT digital access to "The Secret to First Date Chemistry"
I will also receive 10 detailed question and answers case studies from
women who went through the exact situation I'm going through.
I also understand that I have a full 60-Day 100% No Questions Asked
Money-Back Guarantee so I have nothing to lose and everything to gain!
Just $9!

Questions? Call 1-800-755-4364 or
contact Support
Wishing you the very best,
P.S. Please be sure to tell me how the The Secret to First Date Chemistry helped you. I care about your happiness.
P.P.S. You risk nothing. I'm taking all the risk for you as you try this mini-course. The 100% money back guarantee means you'll be happy with it or it costs you nothing.
Hurry! Don't waste another day.