3 Surprising Ways Your Past
Could Wreck Your Love Life
Hi there, it's Amy again!
I've got an exciting new e-book for you this month and it's for everyone; whether you're single, in a relationship, or married.
If you find yourself at the end of yet another relationship or are trying to find "the right one" don't do anything until you've read my new book.
Your Subconscious
The subconscious is a sneaky, underhanded villain.
It can rob us of stellar relationships or keep a relationship from happening altogether with thoughts that:
turn a possible partner away from you

cause conflict with the other person

discourage you from thinking you deserve happiness
If you continue in this way, your subconscious will keep interfering in your life most of the time without you even realizing it.
So what are you supposed to do to change? How can you fight back against the negative thoughts and behavior patterns your subconscious is causing?
Well, you can't change your past – but you can re-frame it.
Start with a Growth Mindset
I've talked about Growth Mindset before. It's an important part of changing your life for the better.
Believe that you can learn from past relationships in order to get you ready for the right one.
In this instance, Growth Mindset involves using your past for personal growth by learning to be a better person and partner.
People who are able to move on after life's upheavals, including bad break-ups/divorces, are those who don't take these situations personally.
Maybe two people grew apart. That's no one's fault.
In life you either grow or become stagnant and being stagnant is not good for anyone.
If you are truly ready to change your outlook on life, your past, and relationships, then this book is for you!
I will ask you to take a hard look at yourself, your past, and be willing to override your current subconscious "script" with positive responses instead of negative ones.
In this book I cover:
Self awareness
How can you change automatic behaviors if you don't recognize them?
Acceptance –

Accept yourself just the way you are. You are enough and you deserve to give and receive love.

Forgiveness –

Forgive yourself and others. Learn from your experiences and see how they can be the impetus for change.

New responses –

Once you get to this point you'll be able to create more positive conversational responses as well as learning new behavioral responses to old triggers.

Resilience –

Eventually you'll be able to learn from hardships without letting them crush you. You'll be able to get through life's difficult times with less drama and more grace.
Okay, if you're ready to get to work and move toward a more positive and effective life, let's do this!
Purchase my newest book 3 Surprising Ways Your Past Could Wreck Your Love Life right now!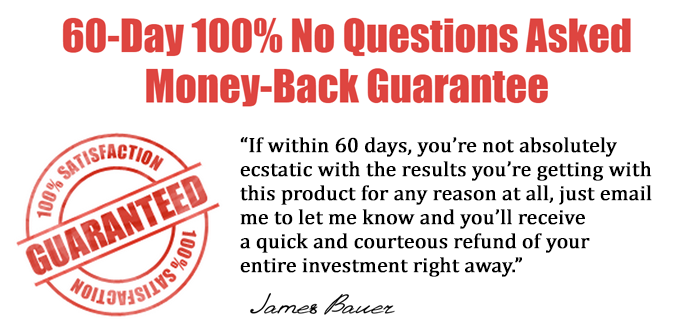 Questions? Call 1-800-755-4364 or contact Support.
Wishing you all the best,
Amy Waterman and James Bauer
---
Want to learn more about our iron-clad, 60-day, 100% refund policy?
Check out our refund video below