Here's A Little Secret That Makes Him THRILLED To Go The Extra Mile
A Blissful Relationship Requires Work.
This Makes Him Happy To Do It.
Hey, Amy Waterman here.
Let's face it.
Your man might not know anything about relationships. Not like you do.
He might be a genius when it comes to his job (or more likely his hobbies) but when it comes to matters of the heart… there's a good chance he might be a little "challenged".
You know that good relationships take work.
You know that little gestures matter.
You know that it's what you do every day that keeps a relationship strong, not big gestures made once in a blue moon.
But what many women don't know is how to get their man to put as much work into the relationship as they do.
And to WANT to put in that extra effort. If you're in it for the long-haul, it requires maintenance and most of all TEAM WORK.
We want to feel like our relationship is important to him. We want to feel like WE are a priority to him.
But as much as we want them to think of all the little things on their own, none of us are holding our breath.
Men aren't mind readers. (No kidding, right?)
And to make matters even more complicated, it seems like asking men to change has the OPPOSITE effect.
What many women experience is that the more you try to force him to do anything, the more he digs his heels in.
There's an old saying: "A mind changed against its will is of the same opinion still."
So what are we supposed to do?
Try a different tactic!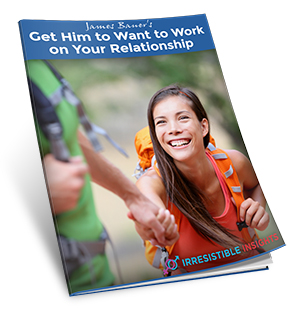 In this special addition to the Irresistible Insiders Library, I'm going to show you the secret to motivating your man.
It's a principal to live by that will serve you well in all walks of life.
Just knowing it will help, but once I show you how to apply it to your relationship, you won't believe the difference it will make.
This little secret is the key to his heart. It will puff him up with pride and let him know how irreplaceable he is in your life.
But most of all, he will LOVE making you happy.
You'll start to see you and your relationship moving to the top of his priority list.
He'll start to be proactive and do the things that put a smile on your face before you even think to ask.
And if you're relationship is REALLY on the rocks – I'm talking SERIOUS issues – then you'll definitely want to check this out.
Because I've got a "Relationship Revival" method in here that will bring your relationship back from the brink.
By the time you're done, your relationship will feel A LOT different. You'll notice how much more open, loving and considerate he is.
And how much more willing he is to go the extra mile to make sure you're happy and the relationship is healthy.
And you can try this out completely risk free.
I don't want you to have to worry about whether this is worth it or not.
Getting your relationship back on track is the priority here and you deserve the opportunity to make that happen without adding any stress to the situation.
That's why I'm offering a 60 day money back guarantee.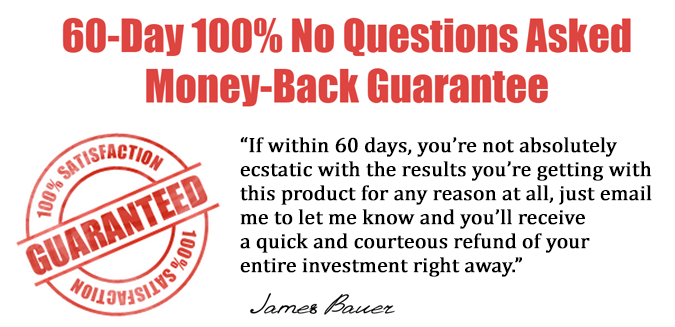 Simply download this mini-course in pdf, mp3 and video format so you can conveniently get these insights anytime, anywhere.
Try out the secret insights in Get Him To Work On Your Relationship. See how much better things are, how much more effort he's willing to put in to show you how much you mean to him.
If that's not worth a one time investment of $9 then shoot me an email and you'll get every penny back, no questions asked.
Does that sound good?
Then click the button below and get access right now!

Questions? Call 1-800-755-4364 or contact Support
Wishing you the best,
Amy Waterman and James Bauer