One Week To A Happier Relationship
What to Do When You Love Him But Don't Feel Happy Anymore
Hey, It's Amy.
Have you ever been trapped in an unhappy relationship? Where you're miserable staying with him but ending things would be even worse?
I've been down that road. And it can – it WILL – turn your life into a nightmare.
You're as stuck between a rock and a hard place as you could possibly be.
Especially if you are 100% committed to your man.
You don't want to end the relationship because it would be an emotional bloodfest. After all, you love him and want to fix things, right?
But you also don't want to point fingers and start raging arguments all the time. (Maybe you've tried that already and know first hand how "well" that works.)
So you do what strong women think they are supposed to do.
You bottle it all up.
You absorb all the negativity and bitterness because you feel that's your duty.
You put on a happy face for your friends and family to see and carry all that burden by yourself, hoping that things will get better on their own.
But it starts to eat you up bit by bit.
It drains you. Sucks away your energy. It leaves you crabby, resentful, unpleasant. You start to lose the beauty, spunk and essence that makes you YOU.
You feel powerless to stop it.
And the longer you stay, the harder it is to get out!
So what are you supposed to do?
Aren't relationships supposed to make you happy? Isn't he supposed to make you happy?
Isn't that the whole point?
How do you get back to being that happy, gorgeous person that leapt into this relationship head over heels?
How do you bring the happiness and romance back into your relationship?
I've got the perfect solution for you.
Introducing…
One Week To A Happier Relationship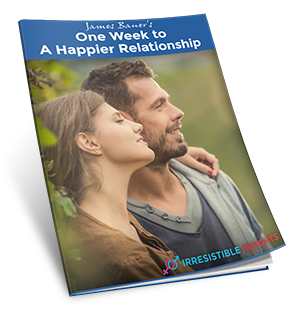 In this special addition to the Irresistible Insiders Library, you're going to discover a week of exercises that will boost your personal happiness and renew the happiness in your relationship.
And this isn't something that will take up a lot of your time. Anyone can do this.
With just one simple exercise a day you will be amazed at how much happier and closer you will feel with your man by the end of just one week.
These exercises were originally developed by Dr. Robert Holden, author of Be Happy. Dr. Holden has been running an 8-week happiness course for over 20 years.
His course has been proven to produce scientifically verifiable, significant, lasting improvements in happiness.
I've carefully adapted those same exercises specifically for you to increase the happiness in your relationship.
And you can get started with One Week To A Happier Relationship right now for the one time investment of just $9.
And you are completely safe to try this out risk free.
As always, you're backed by my ironclad…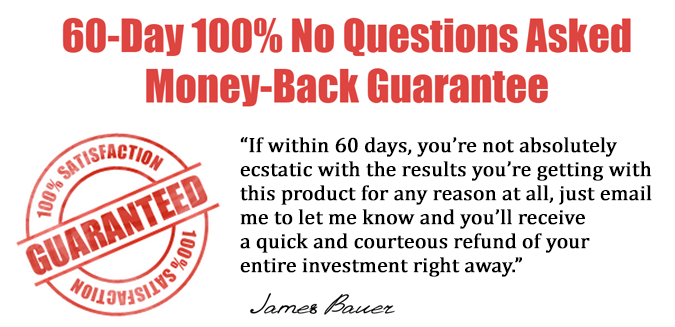 Give these exercises a try. Just one a day. By the end of that week the amount of happiness and energy in your relationship will be night and day.
Simply download this mini-course in pdf, mp3 and video format so you can conveniently get these insights anytime, anywhere.
And if you're not satisfied with One Week To A Happier Relationship for any reason…
Simply let me know with an email and you'll get back every penny, no questions asked.
Does that sound good?
Then click the button below and get access right now!

Questions? Call 1-800-755-4364 or
contact Support
Wishing you the best,
Amy Waterman and James Bauer