How To Survive Infidelity
Hi, Amy Waterman here.
Have you ever been with a man who cheated on you?
It's probably one of the worst feelings in the world.
And if you've ever experienced such a shocking and painful betrayal, then you would certainly never want to live through something like that ever again.
It can make you feel broken. Like damaged goods. Like you just weren't good enough.
It can make you feel shameful. Duped. A laughing stock.
But being cheated on has a lot less to do with you than you think and I'll show you the science to back that up in this mini-course.
You didn't cause it. It wasn't your fault. And you aren't responsible for his faithfulness.
Most of all, you're not alone. Cheating Happens. Probably a lot more than most of us think.
And the more you know about it, the less likely it will happen to you.
So how do we predict who is going to cheat? What are the signs. What are the causes? Can a relationship really survive the aftermath?
In this mini-course we're going to bust this thing wide open and answer some BIG questions based on research and facts.
Here are just a few key things you will discover:
The Profile Of A Cheater – Find out the real reason men cheat and what type of guy is most likely to betray you. (So you can avoid them like the plague!)
3 of the BIGGEST Myths about cheating that are just plain wrong! (Like: Men only cheat if they are unhappy with their relationship. FALSE!)
3 of the most common "Cheat-Proofing" strategies that DON'T WORK and actually do more damage to your relationship than good.
What stage of a relationship men are most likely to cheat and why good, honest men aren't immune to the slippery slope that leads to cheating.
6 Cheat-Proofing Methods that actually work to keep him faithful and open with you.
8 Steps to healing and rebuilding the relationship in the wake of infidelity.
And much more…
You can get this special addition to the Irresistible Insiders Library for the one time investment of just $9.
And you are completely safe to try this out risk free.
As always, you're backed by my ironclad…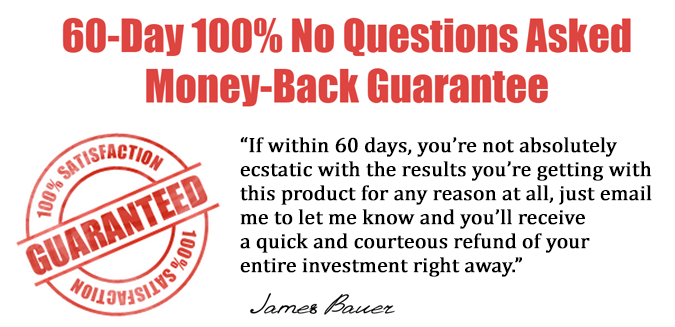 Just try out the insights and professional advice in "How To Survive Infidelity" for 60 days.
Simply download this mini-course in pdf, mp3 and video format so you can conveniently get these insights anytime, anywhere.
And if you're not satisfied for any reason…
Simply let me know with an email and you'll get back every penny, no questions asked.
Does that sound good?
Then click the button below and get access right now!

Questions? Call 1-800-755-4364 or
contact Support
Wishing you the best,
Amy Waterman and James Bauer