How to Kill Your Relationship
The Top 5 Silent and Deadly Relationship Assassins… And How To Avoid them
Hey there, it's Amy.
Have you ever been in a serious relationship that started off amazing… until one day it just… wasn't? Almost overnight it seemed to be hurtling downhill at breakneck speeds?
Or are you in a relationship right now that feels like the walls are crumbling and you wish there was something you could do to save it from crashing down on you?
Maybe you're different – but when most of us think about relationships ending we usually think about the big stuff.
Like infidelity, betrayal, fighting, addiction, growing apart… things like that.
But the truth is, there's rarely just one cause for a relationship to end.
There's usually a lot of small "Relationship Assassins" lurking under the surface that go unnoticed as they wreak havoc on your bond.
What You Can't See CAN Hurt You
That's why the worst relationship killers are invisible.
You can't do anything about the problems you can't see.
When you're in a relationship, you're too close to it to see what may be obvious to an outside perspective with an expert eye.
And the earlier on you spot these issues the easier they are to deal with. A speedy counter attack on those would-be relationship killers is key.
That's why I'm going to share something with you that you can start using right now that can make all the difference in your relationship.
In this mini-course, I'm going to give you a shortcut to zeroing in on the top 5 Silent and Deadly "relationship assassins" before they can do too much damage.
Even if things seem great right now it is still well worth your time to know what these are in case they ever show their ugly faces.
How To Kill Your Relationship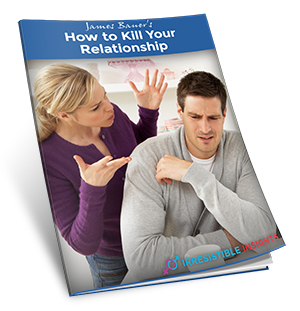 In this special mini-course, you'll discover what was missing from any of your honest attempts to communicate with him in the past.
You'll learn how to laser in on the ticking time bombs about to explode all over your relationship.
The habits that kill relationships are also those most likely to go undetected. You may not even realize they are dangerous. You may think they're normal or completely harmless. That's how they do their damage, going unnoticed until it's too late.
Once you can spot these time bombs, I'll teach you how to defuse them.
You'll learn concrete strategies for dealing with all the usual suspects like disrespect, blame, and other relationship killers.
Because a loving relationship is one of the most special and amazing things you can experience in life…
And when you have something special you don't want to let these nasty relationship killers wedge their way between you and your man.
That's why I want to share this special addition to the Irresistible Insider's Library with you for the special one time investment of just $9.
And you are completely safe to try this out.
As always, you're backed by my iron-clad…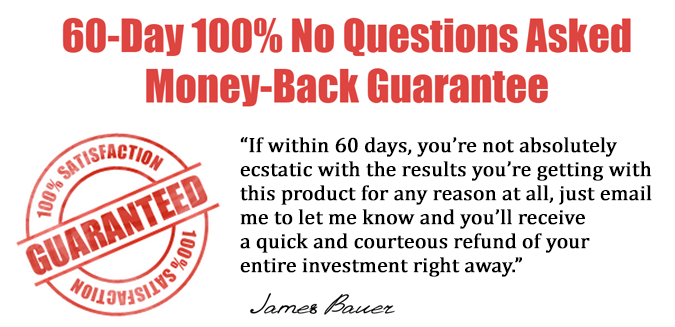 Just try out the secrets in "How To Kill Your Relationship" for 60 days and see how much better your relationship can be without these relationship killers sneaking around mucking up your love life.
Simply download this mini-course in pdf, mp3 and video format so you can conveniently get these insights anytime, anywhere.
And if you're not satisfied for any reason…
Simply let me know with an email and you'll get back every penny, no questions asked.
Does that sound good?
Are you ready to stop waiting around for things to keep falling apart?
Are you ready to stop these relationship killers from taking root between you and your man?
Are you ready to finally bulletproof your relationship so the two of you can weather any storm?
Then click the button below and get access right now!

Questions? Call 1-800-755-4364 or
contact Support
Wishing you the best,
Amy Waterman and James Bauer