How To Speak Male
So That Love Never Gets Lost In Translation
Hey there, It's Amy Waterman.
Do you ever have a hard time figuring out what's going on in your man's head?
Do you ever get short responses to long questions that leave you wondering "What does that mean??"
Why the heck is it so hard to communicate with men sometimes?
Well it turns out there's a very good reason for this.
Men communicate in a completely different way than women do.
In fact, in general they communicate about half as much as women do.
But as frustrating as this can be, there's a massive payoff for knowing how to read men.
If you can decode a man's secret messages, you'll always know the perfect way to respond…
So that he feels a special understanding and connection with you.
You'll know exactly what he means, where you stand, and what to say next.
And when a man feels like you truly "get him" he will find you impossible to resist.
That's why I want to share this special addition to the Irresistible Insiders Library with you…
How To Speak Male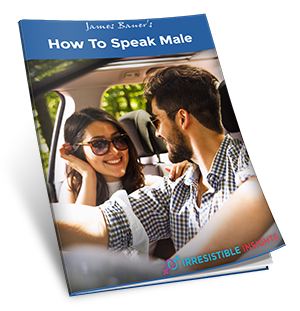 Because you deserve to have the companionship and connection that you truly want in your relationship…
And being able to "speak his language" is one of the surest ways to win a man's heart and strengthen your bond.
In this guide you'll learn 5 key lessons to "speaking his language"…
And a treasure trove of tips and insights that will help you connect the dots between what he says (or does) and what he actually means.
So if you've ever found yourself wondering…
Why don't we talk anymore?
Why does he shut down?
Why won't he listen?
Why does he make fun of me for talking all the time?
How do I find out what he really means?
Why won't he talk about his feelings?
What do I need to say to make him like me?
… Then this mini-course is exactly what you need to bring him closer.
Because a gap in communication means a gap in your relationship.
And the important thing to realize is that these matters never work themselves out.
If something isn't done to bridge that gap, it only gets bigger…
And eventually it gets to the point where two people who love each other can't seem to connect anymore.
That's why I want to share this special addition to the Irresistible Insider's Library with you for the special one time investment of just 9$.
And you are completely safe to try this out.
As always, you're backed by my iron-clad…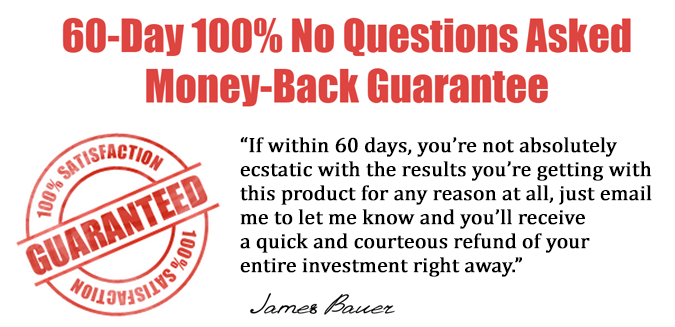 Just try out the secrets in "How To Speak Male" for 60 days and see how much better life can be when you can read your man like the back of your hand and have the special connection you've always wanted.
Simply download this mini-course in pdf, mp3 and video format so you can conveniently get these insights anytime, anywhere.
And if you're not satisfied for any reason…
Simply let me know with an email and you'll get back every penny, no questions asked.
Does that sound good?
Are you ready to stop feeling frustrated by his confusing behaviour?
Are you ready to stop feeling shut out of his mind and heart?
Are you ready to finally connect with him in a way that makes him WANT to open up and bond with you?
Then click the button below and get access right now!

Questions? Call 1-800-755-4364 or
contact Support
Wishing you the best,
Amy Waterman and James Bauer