The Missing Step To
Getting Your Needs Met
The Big Secret To Getting The Most Satisfaction
And Happiness Out Of Your Relationship
Hey there, it's Amy Waterman.
Do you ever feel like you're man takes you and your relationship for granted?
Do you sometimes feel alone even when you're together?
Are there things you want from him that you just aren't getting no matter what you try?
Trust me, we've all been there and it can feel like being trapped in your own life.
But if you're suffering in a relationship where your needs are being ignored then this special Irresistible Insiders mini-course is just for you…
Because you deserve a relationship where he listens to you and cares about what you want.
You deserve to have a relationship that brings joy, support and fulfillment to your life.
The problem is…
Most of the things women try only make things worse…
We already know that dropping hints hardly ever works. Men could not be more oblivious.
And even when we try to not be passive aggressive and have an honest conversation…
He gets defensive and the whole thing blows up into an argument.
But you love him. So you do what so many women do.
You suffer in silence.
And then what?
You continue to be unfulfilled…
You keep hoping he will change on his own but he doesn't…
You start to feel resentment.
And the silence starts to drive a wedge between the two of you…
And eventually, two people who are good for each other and perfectly capable of making each other happy drift apart.
Some cynics might chalk this sad story up to the natural cycle of a relationship…
But today I'm going to show you a better way, where both you and your man can have your needs completely fulfilled…
Where your love can flourish and bloom the way it's supposed to.
This addition to the Irresistible Insiders Library is called…
The Missing Step To Getting Your Needs Met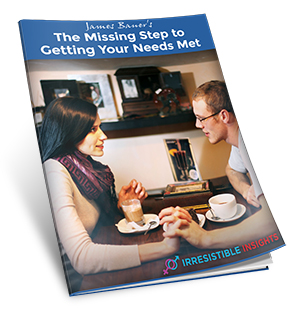 In this special mini-course, you'll discover what was missing from any of your honest attempts to communicate with him in the past.
And you'll be able to do it without seeming needy, without "nagging", and without it turning into an argument.
In fact, once you know just the right way to communicate your needs to your man…
You'll be amazed at how much more loving and responsive he is to making sure you are happy and loved.
And you won't have to suffer in the silence anymore the way most women do.
Because a loving relationship is one of the most special and amazing things you can experience in life…
And we all deserve to be in a relationship where we get as much love and support as we give.
That's why I want to share this special addition to the Irresistible Insider's Library with you for the special one time investment of just 9$.
And you are completely safe to try this out.
As always, you're backed by my iron-clad…
Just try out the secrets in "The Missing Step To Getting Your Needs Met" for 60 days and see how much better life can be when you're getting all the love, connection and support that you need from your relationship.
Simply download this mini-course in pdf, mp3 and video format so you can conveniently get these insights anytime, anywhere.
And if you're not satisfied for any reason…
Simply let me know with an email and you'll get back every penny, no questions asked.
Does that sound good?
Are you ready to stop feeling bitter and taken for granted?
Are you ready to stop silently suffering while the two of you grow further and further apart?
Are you ready to finally get through to him in a way that makes him WANT to listen and change?
Are you excited to experience a relationship where what your wants and needs are a priority?
Then click the button below and get access right now!

Questions? Call 1-800-755-4364 or
contact Support
Questions? Call 1-800-755-4364 or contact Support
Wishing you the best,
Amy Waterman and James Bauer
---
Want to learn more about our iron-clad, 60-day, 100% refund policy?
Check out our refund video below