How To Tell If You're Dating
Or Just "Hanging Out"
And what you can do to make him
take things to the next level
Hey there, it's Amy Waterman.
Have you ever been frustrated and confused by the way "dating" works these days?
Does it seem like modern dating skips right over the romance and courting that makes a relationship special?
Do people even go on actual dates anymore?
We shouldn't have to wonder if a guy is really interested in us…
Or if he just sees us as another number in his phone.
We deserve the effort. We deserve to feel special.
We deserve planning and thoughtfulness.
And most of all we deserve to know a man's intentions
But the problem these days is that guys don't really have to settle down.
Dating is becoming more and more casual with things like Tinder.
And it's easy to end up in a relationship with blurry lines where it's easy to get hurt.
Luckily, this new addition to the Irresistible Insider's Library has a simple solution.
In You're Dating Or Just "Hanging Out" you'll discover…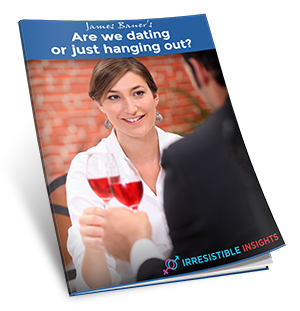 How to go from just "hanging out" to a full on committed relationship.
Without scaring him off with "the talk."
And you'll know how to attract men in the "right way" from the beginning
So you never have to worry if he's on the same page as you or not.
In fact, when you follow these steps…
You'll immediately find it much easier to find a commitment minded guy…
Who knows how to treat a lady and isn't afraid to change his relationship status on Facebook.
You'll also discover the 15 red flags that show he's NOT serious about you
So you never waste your time on a guy that doesn't deserve you.
Plus – find out the 12 signs that he's "commitment material" and a definite keeper!
Imagine having that special guy take you out on exciting night on the town.
You're nervous but giddy as he picks you up.
He offers you his arm as you walk in the cool night air.
He pulls the chair out for you at that amazing restaurant you've been wanting to try…
And he stares deep in your eyes as he tries to uncover your mysteries.
Sounds a lot better than "Hey, wanna hang if you're not busy later?"
We ladies need to feel valued. And special. And worth the effort.
And you deserve a man who rolls out the red carpet for you.
A man that doesn't need to keep his options open.
That's why I want to offer you this mini-course today for the special one time payment of just $9.
Because by this time tomorrow, dating could be a whole new game for you.
One you actually enjoy and makes you feel good about yourself.
And you are completely safe to try this out.
Because you'll be backed by my…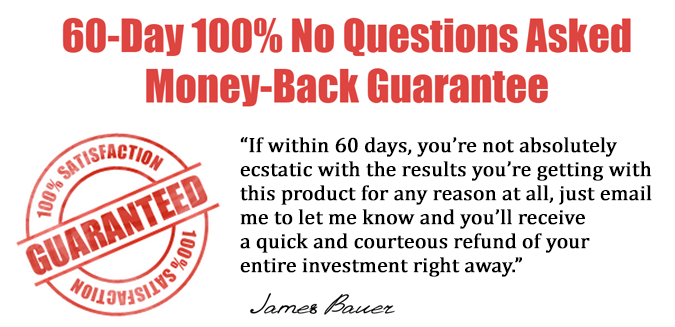 Just discover these game changing insights for yourself for 60 days
Simply download How To Tell If You're Dating Or Just "Hanging Out" in pdf, mp3 and video format so you can conveniently get these secrets anytime, anywhere.
And if you're not happy with if for any reason…
Simply let me know with an email and you'll get back every penny, no questions asked.
Does that sound good?
Are you excited to leave those days of being his backup plan behind you?
Are you ready to have a cute guy ask you on a real date like a gentleman?
Are you ready to be with a man who proudly introduces you as his girlfriend?
Then click the button below and get access right now!

Questions? Call 1-800-755-4364 or
contact Support
Wishing you the best,
Amy Waterman and James Bauer