The difference between meeting men and meeting the RIGHT man…
How To Meet The Man
Of Your Dreams
A Step By Step Guide To Meeting Your Ideal Man
In A Way That's Fun, Natural And Shows
You In Your Best Light
From Amy Waterman:
Dear Friend,
Does meeting a great guy seem about as likely as winning the lottery?
Do you feel like all the good ones are already snatched up?
Are you starting to wonder if that chance encounter with Mr. Perfect is something that only happens in movies?
Tell me about it! Trying to meet the right guy can be frustrating, painfully disappointing and even downright depressing!
And waiting around for Prince Charming to fall in your lap? Forget about it!
In real life, for those of us that don't live in a fairytale or romantic comedy…
Finding "The One" can feel like looking for the right needle in a haystack full of needles.
And if you're anything like me, or most women for that matter…
The longer you go without finding that special man… the more you want to just curl up on the couch and turn on the TV.
I know all too well how easy it is to fall into that pattern. I've totally been there.
The thought of going out to meet men would give me severe anxiety. I felt like I had no idea how to flirt anymore.
I didn't know how to make small talk. I was always afraid of coming off awkward or embarrassing myself…
Or being so eager to meet the right guy that I would end up settling for the WRONG guy. Disaster!
I would try and come up with any excuse that I could think of to NOT go out and meet men, then complain about how there no good men out there to meet!
If you know where I'm coming from then this mini-course is specifically for you.
You see, unlike the way Hollywood paints the picture of meeting your soulmate…
In the real world, most women find their true love in less exciting ways. Like work, school, mutual friends or hobbies just to name a few.
However, finding that perfect match at the right time and right place is something that usually happens naturally on it's own. You can't force chemistry.
That's why when you "force" yourself to go out and do things you don't really want to do just for the small chance of meeting someone special…
It never seems to work out. You feel awkward or out of your element. You meet people you aren't interested in meeting.
It's not hard to see why meeting men ends up being something stressful that seems more like a chore than something romantic and exciting.
But don't worry! Meeting that perfect man can be easier than you think!
In fact, one of the biggest take aways that I want to share with you in this mini-course is how to make meeting men a fun adventure.
Something enjoyable that you look forward to, that brings out the very best in you.
Because if I've learned one thing about meeting men, it's this:
Meeting and attracting the RIGHT kind of guy for YOU is just as much about your "mental space" as your physical place.
It's important to project the kind of energy that makes you seem approachable and appealing.
You might be different, but most women don't realize how easy it is for men to pick up on your "vibe."
And if you are on a mission to find a man and that's your soul purpose for going out, men will sense this from a mile away.
So how do you get into the right "mental space" for meeting men?
Where do you go to meet the man you're supposed to marry?
What can you do differently to make that special connection?
How do you get over the doubt and fear of rejection?
What is it that's REALLY holding you back from meeting men?
You're about to discover the answers to these questions and much more.
And by the end of this mini-course, you'll know exactly how to put together your very own man meeting plan to put you on the exciting path to your perfect match.
Here's a quick look at what you will discover:
The #1 BIGGEST reason you aren't meeting the right kind of men for you (and the quick and easy way to make that problem go away).
How to shift into the right "Mental Space" for meeting men that will allow you to be more approachable and attractive to the RIGHT kind of guy…
The secret to finding where to go and what to do to meet the right man for YOU.
How to ease out of a rut and into fun, laidback social settings where chemistry with well matched men is most likely to happen (this is the key to meeting men in a fun and natural way instead of stressful and awkward!).
The easiest way to get back on your feet with good energy after a long dry spell.
An in depth man meeting questionnaire that will walk you step by step through creating your own custom plan for meeting the right man for YOU (This alone will make the biggest difference in your search for Mr. Right).
What you absolutely must do BEFORE trying to meet men if you feel like you don't have enough time in your life.
The TRUTH about online dating (Find out if it's for you and what pitfalls to avoid).
The biggest mistake most single women make that causes men to run and hide!
The trick to "romantic networking" (this is one of the most common ways women find the man of their dreams).
The 3 most common man meeting obstacles most women run into and step by step instructions on how to overcome them and start meeting quality men right away.
How to use the "propinquity effect" to draw your Mr. Perfect to you like a magnet without any risk or rejection or embarrassment.
How easing out of your comfort zone can actually bring out your bold, confident side making you even more attractive and inviting to your ideal man.
The one thing you can do RIGHT now to get the ball rolling (This is huge, because a plan only works if you use it, and this makes it easy to get started!).
PLUS- The secret to showing yourself in the best light possible so when you meet that special man, you will be in your element with all your best qualities on display…
And much more!
Imagine how good it will feel to wake up tomorrow full of excitement and hope for the possibilities the new day will bring.
You'll feel confident knowing that you're on the best path to meeting the man of your dreams and you'll be ready to dazzle him.
And as you embark on the adventure of a lifetime to find the man you're meant to be with, you'll be having the time of your life.
You'll start noticing how doors to new experiences open up as you explore new things and meet interesting people, gaining confidence and learning more about who you are and what you want along the way.
And as your "romantic networking" branches out into the world, you will feel it pulling you closer and closer to that special man you've been searching for.
And you might find yourself living out an incredible love story of your own sooner than you thought possible!
So are you ready to discover how to find "The One" for you?
Are you ready to take serendipity into your own hands and set off on an adventure of fun and excitement?
Are you ready to finally connect with that perfect stranger and let the sparks fly?
Then I can't wait for you to get started with…
Your Man Meeting Plan!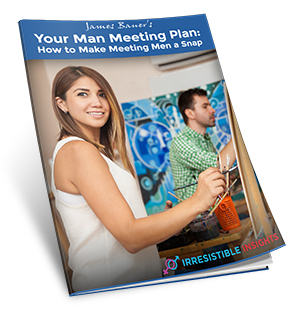 A lot of women out there will end up going out looking for their perfect man without any rhyme or reason, just hoping for that chance encounter with love.
And you never, know! Some people get lucky!
But many women will spend precious time, and probably a lot of money, searching for love in all the wrong places.
And the sad thing is, many women end up settling for men that aren't right for them just because there weren't any better options!
But I don't want that for you.
I've been in your shoes before and I know how daunting it can feel when there just doesn't seem to be any "good ones" around.
I know that feeling of depression and loneliness, especially if you're surrounded by friends that are in great relationships.
That's why I want you to have this special mini-course that will put you on the fastest path to finding the love of your life.
I wish that I had started off knowing what I know now. It would have saved me countless nights of loneliness and self doubt, years of searching in all the wrong ways…
Not to mention all the money spent on fruitless nights out!
I know how hard it can be to put yourself out there, and I commend your courage for wanting to take matters into your own hands.
I almost feel like we know each other after going through the same emotional struggle… like we are kindred spirits.
That's why I want to give you the opportunity to get this life changing mini-course at the special one time price of just $9.
That's less than a cab ride and much less than another aimless night out on the town where you end up wondering why you even bothered.
And since I know how easy it can be to make hasty decisions when you're feeling this way…
I want to make this completely risk free for you so it's one less thing on your mind.
That's why I'm offering you my…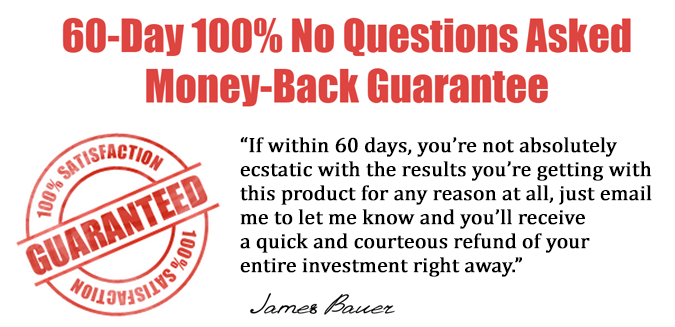 You can get a full refund for up to 60 days, though I know you won't want to.
It only takes a couple of minutes to click the button below and get started.
Now once you've tried even just a couple of the methods inside, you'll discover all sorts of new and exciting possibilities to meeting the man of your dreams.
And if you aren't totally thrilled with these incredible man meeting methods for any reason at all…
All you have to do is shoot me an email and I'll send you a refund right away.
And you'll even get to keep the mini-course.
Why?
Because what's most important is that you have everything you need to start meeting the right man for you as soon as possible.
Think about it…
By this time tomorrow you can start fresh with an exciting new outlook and a solid plan for finding the love of your life.
All of the frustration and awkwardness you've experienced in the past will be replaced with fun and enjoyment as each exciting step brings you closer to that special man waiting right around the corner…
All you have to do to get started is click the button below.
Get Instant Access To
"Your Man Meeting Plan"
Yes! Amy Waterman and James Bauer; please give me INSTANT access to:
The "Your Man Meeting Plan" and discover how to meet the RIGHT man in a fun and natural way, while putting my best foot forward.
The entire mini-course in video format so you can instantly watch it on your MAC, PC or tablet
All the insights and instructions in a studio quality audio file that can be played on any MP3 player so I can conveniently listen to it on the go
A complete 60-Day Money Back Guarantee, so that there is no risk when I purchase now.
Just $9!

Questions? Call 1-800-755-4364 or
contact Support
I don't want you to continue searching in vain, feeling frustrated that the right man for you isn't out there.
Or even worse, settling for someone who isn't right for you.
You deserve better.
You deserve to be happy, to feel good about yourself and to enjoy life as you explore the exciting possibilities of finding love.
You've already gone through the trial and error of meeting men…
Now it's time to try a new plan for meeting Mr. Right that is specific to you and your unique situation.
And once you know these insights you'll wake up tomorrow…
Feeling hopeful, confident, more beautiful than ever…
And knowing exactly what you want out of life, and how to find it.
To your fairytale ending,
Amy Waterman
P.S. Remember, this is the only mini-course out there that will give you everything you need to start on the fastest path to finding your perfect match. You'll be able to construct a step by step plan that is custom tailored to your life and needs in order to find a man that is right for you. You won't be able to find this anywhere else!
P.P.S. It's easy, convenient and it's 100% Guaranteed so there is absolutely no risk for you.