The Art Of Breaking Up
The Respectable Woman's Guide To Getting Through A Breakup With Grace
"Sometimes good things fall apart
so better things can fall together"
– Marilyn Monroe
Dear Friend,
If you've ever been through a breakup then you don't need me to tell you how gut wrenching it can be.
We've all been there to some degree and there are few things in this world that can hurt us as deeply as a broken heart.
And if you're going through one right now, my heart goes out to you.
That's why I want to share something special with you that I wish I had before I went through any of the breakups I've experienced.
Because as much as your friends and family mean well…
All of the pats on the back and comments like "things will get better" or "just give it some time" don't really do anything to make the pain go away.
And if you're anything like me, or most women for that matter, your gut instinct is to make things worse.
Call him names, key his car, make him jealous, eat burritos and ice cream all day long, watch sad movies and cry, burn all of his stuff…
Okay maybe some of that is a bit much but you get the picture.
But deep down you know this is just like scratching an itchy bug bite.
It drives you nuts but the more you scratch it, the worse it gets.
And the worse it gets, the longer it takes to heal and the bigger chance it will leave a nasty scar.
But this is just what humans do, right? This is all part of the process?
It certainly can be.
However, you'll be glad to know there's a better way.
A path you can take that will make you feel almost instantly better, lifting the burden of all that grief off your shoulders…
A path that will brighten your day, allow you to smile and laugh and look forward to getting out of bed…
A path that will give you the moral high ground so the people in your life will see how strong and brave you are…
A path that will allow you to heal faster than you would imagine and walk away with a new look on life and love.
A path that will allow you to maintain a friendship with your ex (given he possesses the maturity).
And what's more, you will actually be more open to attracting the healthier and more fulfilling relationship that is right around the corner.
It's important to remember that there are valuable lessons in love that you take away from each relationship.
Lessons that will come in handy when you meet the perfect guy.
But when you go with your gut, and follow those first nasty impulses…
The ones that cry for blood…
That make you do things you would normally never do…
That bring out the worst in you…
You actually cultivate an energy that most men find unattractive…
That damages your spirit and chips away at your natural inner beauty.
And you may regret some of things that are said and done.
Even if you are completely aware you are making bad choices.
That's simply what grief does, even to the best of us.
But I think you realize there's a better option and that's why you're here.
So if you're ready to take the high road, end the pain, smile again, take what's important and leave behind the rest…
Then I can't wait for you to get your hands on…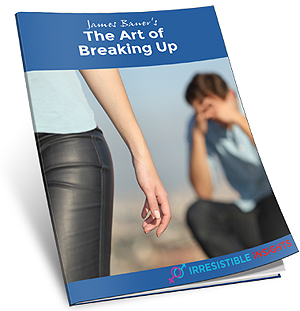 Here are some nuggets of wisdom you will discover inside:
The mental shift you MUST make if you ever want to truly move on (this is the KEY to feeling less pain and hurt when a relationship ends)
How your breakup will can actually make you stronger, more beautiful and even more open to love from the right kind of guy
6 ways to cut emotional ties that allow you to keep the love you experienced and let go of all the bad memories
How to tell if you're trapped in a relationship against your will by spotting red flags that scream "Get Out!"
The secret to transitioning out of relationships with less drama and trauma so you don't carry your baggage on to your next relationship
How to stay friends with your ex (only if you want to!) while maintaining appropriate boundaries
The trick to emerging tougher, wiser, more compassionate and more open to attracting the better relationship that's just around the corner
What to avoid from well meaning loved ones (Friends and family can often make things worse, even with the best intentions.)
How to use your break up to find out you what you really want in a relationship
What to do if he acts like a toddler and throws a tantrum (This will always give you the upper hand without sinking to his level)
Learn a new way to tell your story, where your breakup is a success, not a failure so that your heart can heal with as little "scarring" as possible.
And much more!
Imagine what it will feel like to drop the burden of all that drama and negativity, to sleep soundly at night and look forward to what the new day will bring.
You will feel peaceful and confident, relieved and grateful. Like you've been given a fresh start.
You may even feel like this break up was the best thing that ever happened to you.
He will see how how amazing you are doing on your own and if he's mature he will be happy for you.
If he's not, then you will have the satisfaction that your happiness is driving him crazy.
And your friends and family will say how inspiring you were through such a tough time…
And they'll admire how graceful and in control you were while dealing with the pain.
Just picture it…
No more fighting, no more stress. No more angry feelings.
No more sleepless nights.
No more heartbreak.
Because you will be able to hang on to all the good things…
All the love and all the valuable lessons about yourself and relationships…
And simply let go of the bad memories so that you can heal and move on with your chin up and without a heavy heart.
And when it's time, you'll be ready for that amazing relationship when it falls in your lap.
So are you ready to start feeling like yourself again?
Are you ready to take the next step and put all the "bad juju" behind you?
Then I can't wait for you to get started.
But first, consider this:
A lot of women will engage in destructive behaviour when dealing with a tough break up. Myself included!
Anything from rebounds, to drinking, binge eating, crazy shopping sprees, revenge plots… you name it.
Some women even spend hundreds of dollars on counseling to get over severe heart break.
And honestly, it can be worth virtually any cost to mend a broken heart.
But you won't have to do any of that.
You won't have to go on a tare, wrack up debt with retail therapy or fill up that whole inside with burritos and ice cream.
Because for less than the cost of dinner…
You can have everything you need to start mending your heart right now.
I feel like I know you. I've been there and suffered from heartbreaks.
It's no easy thing and I commend your bravery trying to take the high road instead of succumbing to your grief.
I feel like we're kindred spirits.
That's why I want you to have this special guide today…
For just $9.
And since it's so easy to make hasty decisions when you're feeling this way…
I want to make this completely risk free for you so it's one less thing on your mind.
That's why I'm offering you my…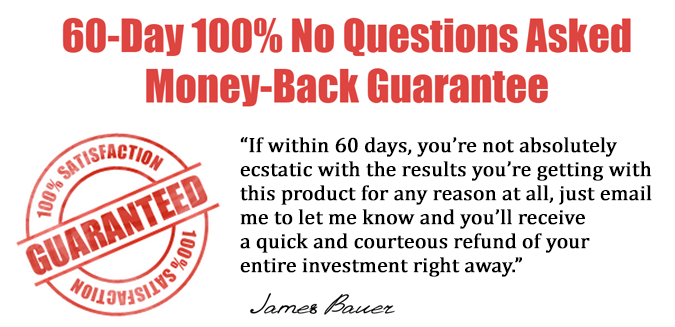 If you don't find what you're looking for you can get a full refund for up to 60 days, though I know you won't want to.
All you have to do is shoot me an email and I'll send you a refund right away.
And you'll even get to keep the mini-course.
Why?
Because what's most important is that you have everything you need to start feeling better as soon as possible.
Think about it…
By this time tomorrow you will feel free from your grief, like you've been given a fresh start.
All of those bad feelings will be replaced with appreciation for the love and the lessons you take with you.
All you have to do to get started is click the button below.
Get Instant Access To
"The Art Of Breaking Up"
Yes!Yes, Amy Waterman and James Bauer, please give me INSTANT access to:
"The Art of Breaking Up" mini-course and discover how to deal with even the worst breakups with grace and beauty.
The entire mini-course in both written and video format so I can watch it on my PC, MAC or tablet
All the insights and instructions in a studio quality audio file that can be played on any MP3 player so I can conveniently listen to it on the go
A complete 60-Day Money Back Guarantee, so that there is no risk when I purchase now.
Just $9!

Questions? Call 1-800-755-4364 or
contact Support
I don't want you to suffer and wallow in your grief…
Or give him the satisfaction that you are a mess.
You deserve better.
You deserve to be happy, to feel good about yourself and your situation.
You've gotten what you need from the relationship and now it's over.
You'll always cherish the good and appreciate the lessons you learned.
But it's time to release all the negativity from your life and take the high road before you.
And once you know these insights you'll wake up tomorrow…
Feeling smarter, stronger, more beautiful than ever…
And knowing exactly what you want out of life.
To your fairytale ending,
Amy Waterman
P.S. Remember, this is the only mini-course out there that will give you everything you need to shift your break up into the best thing that's ever happened to you.
P.P.S. It's easy, convenient and it's 100% Guaranteed so there is absolutely no risk for you.