The fastest and easiest way to get commitment…
Do You Want To Know The 4 Questions That Are  Guaranteed To Get Commitment
From ANY Man?
End the Fear. End the Worry. End the Uncertainty.
And Finally Get The Loving Commitment You Deserve!

Dear Friend,
I know it might not be true.
And for your sake I really hope it isn't.
But something doesn't feel exactly right, does it?
Have you been feeling butterflies in the pit of your stomach?
No matter what you do – whether you try to stay busy with work, spend time with friends, or occupy yourself online – that 'question' won't go away.
And even if it does – even if you're one of the few who somehow manages to push it from your mind – it always comes back again when you're with him.
Maybe you're feeling scared. Or hopeless. Or just plain angry there's no commitment yet!
Well, imagine a very different kind of feeling. A good feeling. About yourself. Your relationship. Your future, FREE from the fear of losing him!
Imagine – with confidence and certainty – by taking a few steps… and answering four questions that lead you through a step-by-step strategy so precise it can quickly, easily, and without risk, eliminate all your fears about whether or not your partner is going to commit to you.
Well, you can now stop imagining.
Discovering how to get a partner to be committed is simple – with this breakthrough mini-course called, The 4 Questions That Get Commitment!
In a moment, I'll explain how you can get a copy, without risking a penny.
First, let me explain how this first-of-its-kind mini-course provides the no-hype information and proven advice that can help you put an end to the fear, worry and struggle
Don't You Deserve a Committed Relationship?
Think about this…
Everyone tells us that men have problems with commitment and women just have to put up with it.
But is that true?
Can you…
Discover if a man is going to stray or stay before you get serious?
Know how to get a man to commit by asking four simple questions?
Experience a lifetime of commitment without rushing to get married?
Change the way he thinks about commitment with a few strategies?
Transform a dying relationship into a strong connection that lasts?
Practice commitment in a way that is fun, exciting and easy?
What if there were a few easy steps you could take today to achieve all of the above.
Wouldn't you wish to know?
Heck, wouldn't you DEMAND to know… if it meant it would lead to a better and more committed relationship with your man?
Well now you can…
The 4 Questions That Get Commitment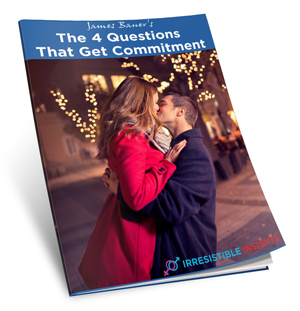 For 60 days (or as long as you need) this insightful mini-course will take you through my unique approach for getting past the anxiety about the commitment issue. If you put in the effort to answer the 4 questions laid out inside this mini-course, it's my goal that you will reach your golden anniversary happy and in love while forgetting that it was me who helped you get there.
Bottom line – if you take action today, it's very possible to experience the long-term commitment that you expect to get from your man. This means you won't have to live in fear of being taking advantage of financially, or having your heart broken, or becoming the girl who was cheated on.
Just imagine waking up to the man of your dreams day after day for years and years. If you put in the initial effort – I guarantee you will experience it.
Think about waking up every morning grateful and at peace in the knowledge that your guy is going to stay with you.
That's why you'll think The 4 Questions That Get Commitment is a Godsend!
Because no matter what your relationship status – from a long-term partner who seems they have cold feet about marriage to a new relationship – you'll find out how to get the commitment you deserve without all the stress most women feel in the months leading up to it.
You see, many of the tactics revealed inside have been proven. They aren't empty theories about what might be accurate or might work!
No this is practical advice you can use immediately to see real results!
With that said, I have to give you a fair warning: Once you take the steps shown in the video and special mini-course, don't be surprised if you are a little bit angry with yourself. You might be angry when you realize how simple things can actually be.
If that doesn't faze you, then…
Here's just a sliver of what you are about to discover inside this eye-opening mini-course.
The 4 questions that lead to a solid commitment from any man
Demystifying the myth behind why men stray while women stay, and how to reach your golden anniversary together
How to automatically grow a deeper connection and commitment over a lifetime using this one simple technique
The latest proven strategies to a stronger, more resilient, loving relationship that doesn't just rely on getting married
The

#1 biggest mistake

made by savvy women who want a man to love, respect and honor them
How anybody (even a complete newbie to relationships) can master the elusive art of commitment within a matter of days
How to

never again

suffer the humiliation of having a guy walk away from a relationship with you
The one and only secret you need to

experience a successful relationship

Why getting hung up on marriage could cause you untold problems over the long-term and the surest way to make it when others tell you that you won't
My 10 commitment "trump cards" for

practicing commitment in your relationship right now

How to get

VIP treatment from your man

even through life's mundane moments
12 Surprising new questions every women should ask if they want to experience a lifetime with a man who loves them
And much more…
Imagine how this could help your relationship. What if you…
Never again spend days, weeks (or months) trying to figure out where things are going wrong.
Never again guess if he is going to leave you (since you will know with certainty that the future of the relationship is in your hands).
Never again make the mistake of entering a relationship only to discover he has "commitment issues."
Here's The Bottom Line…
You're probably already aware that most people don't fix their problems and relationship related issues until it's nearly too late. Then it can cost you far more than this small investment.
So I urge you, don't wait until it's too late.
Don't use trial and error to find out what works. Your relationship is worth investing in.
You could consult with me at $200 an hour to discuss the commitment question in your relationship. But I would forget to mention things, and you would be out hundreds of dollars.
But I'm not going to charge you anywhere near that amount.
Your investment for receiving this life changing mini-course is only $9
And that's because it's delivered digitally, so you can download it instantly!
So go ahead click the buy button below and start reading this in the next 60 seconds.
Listen, with everything you are getting here, I can confidently tell you I've done 99% of the hard work for you. I've tried to think of everything you need to shatter any excuses or roadblocks you have standing in your way. But in case you're still a little bit unsure, I want you to know that you're protected by my amazing…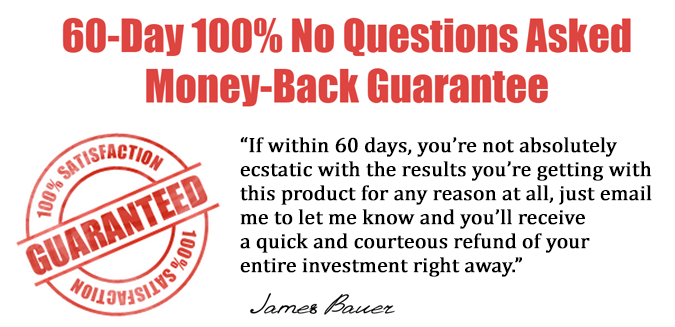 No games. No tricks. And no hard feelings. It's that simple.
Now that's a pretty bold guarantee, but I'm not worried. I only make guarantees when I'm confident in the results you'll get.
It really is that effective!
Now with that out of the way…
Click the "Add To Cart" button now and start reading this in the next 60 seconds.
Get Instant Access To
"The 4 Questions That Get Commitment"
"YES! James and Amy; please give me INSTANT access to:
The "The 4 Questions That Get Commitment" Mini-course so I can discover how to experience a lifetime with a man who truly loves me!
The entire mini-course in video format so I can watch it on my PC, MAC or tablet
All the strategies and instructions I need to exit the fear cycle about commitment in romantic relationships.
A completely 60-Day Money Back Guarantee, so that there is no risk when I purchase now.
Just $9!

Questions? Call 1-800-755-4364 or
contact Support
Listen; if you are thinking this is a magical solution that works overnight – let me spare you an enormous amount of grief, headaches and expenses – it's not.
However, if you are the type of confident, proactive woman who is willing to put in a little bit of time and follow the proven strategies laid out in this mini-course, and are willing to allow someone who has "been there and done that" to actually show you the ropes -then this is an amazing opportunity you shouldn't pass on.
If that's you, then you deserve to see for yourself and take action now.
Don't take this lightly and allow this to slip through your fingers. If you really want to master the art of getting any man to commit without resorting to nagging, lowering your standards or giving up on a good man – then this is what you've been waiting for.
To lasting commitment!
James Bauer and Amy Waterman
About the Author
Amy Waterman is a featured dating and relationship expert on Be Irresistible. Her advice reaches over 35,000 women weekly, and she's contributed to a dozen dating/relationship advice books and programs since 2005.
She's also a gifted teacher with a scientific, research-based approach for attracting and keeping REAL love. Amy was recruited to the Be Irresistible team because James Bauer recognized her gift for teaching concepts that make a real difference in the lives of women around the world.
P.S. – Remember, this irresistible insight mini-course you are about to read works. It really does, and women who have read it know that's true. But don't decide today. Take it for a test run and then decide if this mini-course is right for you. If you're not happy, no problems. Use your 60 day money-back guarantee promise.
P.P.S – Finally, please remember this offer is ONLY available for a short time. I am considering raising the price soon. So hurry! You get the complete mini-course in digital format so that you can download it instantly… All for a low investment of only $9.