Not getting asked out? No problem!
Discover The Scientifically Proven Way To Get Any Guy To Ask You Out
Whoever said 'He's Just Not Into You' obviously didn't know about this…
Dear Friend,
By now you've discovered that getting a guy to ask you out can be a frustrating game of patience!
A far cry from those easy days in school – you know, when your friend, asked his friend and a day later you were going out together. Wasn't that easy?
Sure, it might have been inefficient, and certainly capable of leading to misunderstandings, but at least you had a proven approach that reduced anxiety and made your interest clear to him.
Listen, I know what it feels like to wish a certain guy would just ask you out – or that he would be the first one to break the ice and say "hello."
I understand what it's like to worry that you are going to be alone forever – that you could end up in a house by yourself, surrounded by cats, and looking back with regret.
On the other hand, I also understand how scary it is going out to bars with friends, or approaching guys at work or social events – and wondering if you are going to be rejected, humiliated, ignored.
I went through the same thing, being told by friends "He's obviously just not into you. Go for someone who is."
But that's NOT always the case. In fact, what if I told you there is a simple, anxiety-free and natural way to hook the attention of just about any guy, and reel him in like a fish on a line?
How to Show Any Guy You Are Interested
Imagine knowing how to drive a man crzy through just a few small gestures.
Think how amazing it would feel to be more confident around that guy you like.
Confident because you know exactly what to do. Confident because you know he'll soon be dying to ask you out!
I'd like you to have access to a scientifically proven study that proves the most effective ways to make a guy interested, without resorting to more than anything more complicated than eye contact, body language or a few subtle changes in word choice.
Incredible. That's how you will feel once you have the confidence I want to give you.
And that's exactly what you can experience too.
The truth is… there is absolutely no reason why you or anybody else shouldn't be able to get a guy to ask you out.
Sometimes women try really hard over and over again. But each time they use the same approach. The approach that didn't work on the last guy, or the guy before him. I feel for them.
Because not all men respond to the same approach. But after trying just one approach, they come to the conclusion that it's them. "It's just me. Guys don't like me." They know it's not true, but they start feeling that way after several failures.
But that's why I am excited to share this with you. Just a few concepts proven by a group of social scientists are turning the dating-advice industry on its ear.
Because it demonstrates, that no matter how old you are, how bad you think your approach is, there is an easy method that works on all guys: The social guy, the shy guy and the clueless guy.
Once you see this, you will finally know how to get any guy to ask you out. You'll feel more confident around men. You'll break through that wall you've been experiencing.
What I'm going to show you is fast, easy, and highly effective.
Help Him Ask You Out:
Low-Risk Ways To Show Any Guy You're Interested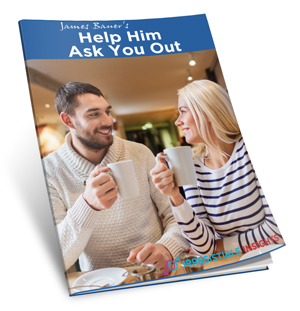 "Help Him Ask You Out" is a jam-packed "how to" mini-course that is practical, easy to follow, and something you can apply immediately to get results, even if you've struggled to get him to ask you out in the past.
This mini-course contains the easy, exact steps that you need to follow if you want your interest in him to turn into something more (reciprocated interest in you).
This guide contains absolutely everything that you need to finally breakthrough that impenetrable wall between you and him. It doesn't matter if he is social, shy or completely clueless.
The insights you will be privy to inside this mini-course reveal what social scientists have discovered works, and what doesn't – to signal availability and attraction – without fear of rejection, stepping outside your comfort zone, or lowering your standards.
It offers an army of proven strategies that build on each other, one upon on the next.
Designed for women of any age, this definitive guide takes you by the hand and leads you through the artful process of navigating this one tiny (but super important) part of dating… getting him to ask you out!
These methods are literally designed to accomplish one purpose. To cause him to notice you, want you, and make it easy for him to ask you out.
Here's a small sample of what you are about to discover inside this eye-opening mini-course.
The "can't lose" way to show any guy that you're interested, and get a Yes!
Detailed strategies for approaching the 3 common types of men
7 step flirting sequence that has been scientifically proven in social settings
The often-overlooked gestures that will drive a man crazy with curiosity about you
Eye contact secrets nobody told you about, but will make him like putty in your hands
The five "body language" tricks which are the surest path to getting the man you want
The real truth behind what men are hoping a woman will do in a social setting
A startling discovery and approach that lures in the men you want and deters those you don't
What you need to know about social hierarchy and it's huge impact on how we choose our mates
Real-life insights into getting a shy guy to open up – it works every time
The number one rule you must abide by if you want to be successful in the dating game
How to understand the male signals, respond to them and make a move before he walks away
A little known secret that will help you get through to the 'clueless' guy
The most common "clumsy mistake" that 90% of all women make when you are interested in a guy
The surprising power that beliefs play in creating our reality, and how to use them to your advantage
Put an end to rejection, doubts and fear when approaching men with this psychological trick
14 simple "no brainer" ways to give him the green light, so that he is dying to ask you out first
Picture this…
Knowing how to AVOID the most common mistakes women make
Knowing how to quickly show any guy you're interested
Knowing how to get him eager to ask you out instead of feeling lost and confused
Knowing how to use body language to attract the best and deter the worst
Knowing the absolute best ways to approach all three types of men
Knowing exactly how to get through to him when all attempts have failed in the past
Now here's the best part:
Help Him To Ask You Out Is Only $9
If you're finally excited about discovering the secrets to not only getting him to know that you are interested, but to apply scientifically proven techniques that will have him dying to ask you out, then you'll want to know how to quickly get your hands on Help Him To Ask You Out: Low-Risk Ways to Show Any Guy You're Interested.
The beauty of this mini-course is that your investment is far less than the alternative of a lifetime of regrets, or worse – ending up living alone, which can be a misery in itself.
So what are your options?
Consult with me at $200 an hour over this, and who knows realistically how long it would take to convey everything contained inside this powerful mini-course.
Or, purchase this now.
Your investment for receiving this life changing mini-course is only $9
And that's because it's delivered digitally, so you can download it instantly!
So go ahead. Click the buy button below and start reading this in the next 60 seconds.
Listen, with everything you are getting here, I can confidently tell you I've done 99% of the hard work for you. I've tried to think of everything you need to shatter any excuses or roadblocks you have standing in your way. But in case you're still a little bit unsure, I want you to know that you're protected by…
My Personal Promise To You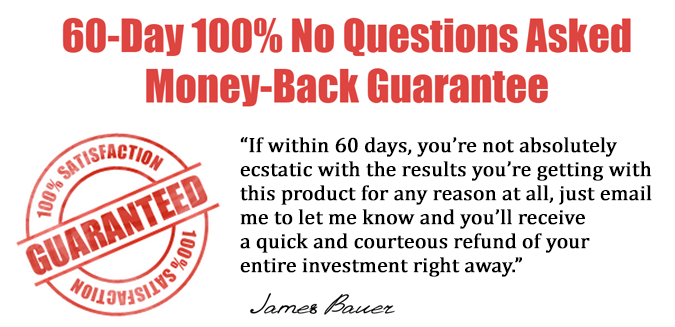 You have absolutely nothing to lose (except an amazing relationship if you don't do something about it!)
Now, that's a pretty bold guarantee and potentially puts me on the hook for the entire investment you make today, but I'm not worried. I only want you to keep it if it actually works for you personally.
It really is that effective!
Now with that out of the way…
Click the "Add To Cart" button now and start reading this in the next 60 seconds.
Get Instant Access To
Get Instant Access To
"Help Him Ask You Out"
"Yes!Amy Waterman and James Bauer; please give me INSTANT access to:
The "Help Him Ask You Out" Mini-course so I can know the low-risk ways to show any guy that I'm interested
The entire mini-course in both written and video format so I can watch it on my PC, MAC or tablet
All the strategies and instructions I need to put this information to use today.
A complete 60-Day Money Back Guarantee, so that there is no risk when I purchase now.
Just $9!

Questions? Call 1-800-755-4364 or
contact Support
If you have gone this far already looking for a way to show any guy that you're interested and faced the emotional anguish that comes from the "Fear of being rejected" or spending the rest of your life alone then don't you think you really owe it to yourself to at least try Help Him Ask You Out?
I believe you deserve to find out how simple and easy it can be to quickly attract a guy, approach him, flirt with him, and get him to ask you out without having to spend weeks thinking "what if?"
You have a simple choice now – this could be a major turning point in your life.
Are you going to say "no thanks" to this risk-free opportunity, watch him walk away, and wonder if things could've gone differently with some expert advice?
OR are you going to take control of your life, be a master of your own destiny, stop the endless cycle of beating yourself up, and enjoy a new approach, confident that you have done everything in your power to put the odds in favor of your happiness?
The choice is yours.
Try this today!
Amy Waterman
About the Author
Amy Waterman is a featured dating and relationship expert on Be Irresistible. Her advice reaches over 35,000 women weekly, and she's contributed to a dozen dating/relationship advice books and programs since 2005.
She's also a gifted teacher with a scientific, research-based approach for attracting and keeping REAL love. Amy was recruited to the Be Irresistible team because James Bauer recognized her gift for teaching concepts that make a real difference in the lives of women around the world.
P.S. – Please remember this is a limited time price offer. Please order now if you are serious about attracting the man of your dreams and getting him to ask you out as I may raise the price of this mini-course later, sorry!
P.P.S – Don't forget that you have nothing to lose in at least trying "Help Him Ask You Out" as you are protected by a 60 days money back guarantee

Yes, I want to AMP UP my attraction factor and take the steps required to get a guy
to know that I am interested in him without caving into fear, self-doubt or low-self-esteem.

---
Want to learn more about our iron-clad, 60-day, 100% refund policy?
Check out our refund video below