Put an end to the fear of losing your man. It's simple when you see exactly…
How to Captivate Your Man's Attention and Keep Him Interested Without Playing Games, Acting Cold or Relying on Sex
Lean in and peer over my shoulder to discover the secrets to keeping any man keen, excited and spellbound by you
Imagine for a moment…
A man who always calls back and replies to your text messages fast
A night out with friends where your man is utterly captivated by you
A marriage filled with exciting date nights, full of anticipation and passion
A relationship where the spark isn't just alive, it's burning hotter than ever
A worry-free love life filled with confidence, hope and strength
Sound unrealistic?
It isn't if you know how to keep a man interested, and that's what I am about to share with you, so keep reading…
These Secrets Will Shock and Delight You!
Does your relationship feel like it's dead-in-the-water?
Even if it's not… do you sometimes feel that things could be more exciting, perhaps more passionate or even playful… like those times when you just started dating?
If so, you're at the right place. You see, most of the time it's so easy to get comfortable with a partner that you miss the warning signs. You don't even realize his interest is waning.
Before you know it, boredom sets in…
He spends more and more time checking his phone, or speaking with his friends
He's with you, but… more distant (emotionally and physically).
It's an uncomfortable feeling when you realize this is happening to you. You begin to question what you're doing wrong.
Or it turns into a blame game, which can turn into an argument.
And then it's over.
So how do you stop it?
How do you safeguard your relationship?
How do you reignite that spark when your man stops putting effort into the relationship?
And ultimately… how do you reclaim his attention? It's time to…
Become the Focus of His Emotional World Again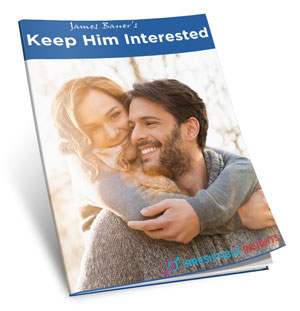 Not everyone knows how to hold a man's interest, but now you can.
"Keep Him Interested" is not a mini-course filled with page after page of overrated, recycled techniques. It is definitely not a laundry list of strategies that don't work.
Instead, it was developed to be a hands-on manual to understand how to keep a man's interest both in mind & body… So you can CAPTIVATE him on and emotional, physical, and mental level.
Most importantly, you'll learn how to make him honor, respect, and love you more, and see that he would be crazy to be without you. It even gives you time-tested strategies to combat common issues like men not calling back, waning interest, or acting like you're invisible.
The method works for singles, couples, and married women.
And I promise you, YOU CAN KEEP A MAN INTERESTED, without nagging or using manipulation or losing your mind in the process.
You don't need to be special or unique to put these methods to work. You don't need to be particularly intelligent, witty, or unusually attractive. You just have to be yourself (and be willing to try something new).
Just imagine…
What if there really was an easy-to-follow, simple method that actually works? Would it be worth trying it for yourself?
Well, I've pinpointed exactly what it takes to keep a man interested. You'll learn directly from me. I'll show you where to focus your energy so you can captivate a man.
And how to avoid making the mistakes that most women make!
Through a comprehensive mini-course and studio-quality video explanation, I will take you by the hand and walk you step-by-step through the entire process from feeling fearful to feeling confident that you won't drive him away.
I leave no stone unturned, no question unanswered.
It doesn't get any easier than this. Read, watch and listen to this on your PC, Mac or Tablet and see how I slash the learning curve, remove roadblocks and clear away all the mystery so you can keep a man interested without resorting to short-term solutions like acting cold or trying to make him jealous.
And that's just for starters…
Here's just a fraction of what you are about to discover inside this eye-opening mini-course.
Learn the truth behind what it really takes to keep a man keen and interested in you over the long haul
Detailed strategies for overcoming boredom in a relationship after many years of being together
Exactly how to keep the spark alive and infuse your relationship with excitement
Unique and practical ways to shine your light and nourish his spirit so that he'll never want to leave you
The common mistakes that even experienced women make in the bedroom, on dates, and in every-day life (and what you can do to avoid them).
The 3 things you think you need to do to keep him interested and why these can backfire on you
How to use one particular "secret" of your feminine power to bring a certain magic and enchantment that will hold him spellbound
Overlooked and hidden ways to keep him on his toes, keep the relationship fresh and keep your passion alive long into your sixties and beyond.
3 "almost magical" tips for eliminating boredom from any relationship and giving him what he can't get for himself
A quick and down-right easy way to get him to honor, respect and love you without nagging, manipulation or leaving him for someone else
An Inside-Out way to recoup, recharge and revitalize yourself, so that you have energy for your relationship
How to kick start his interest and prevent him from choosing someone else over you
The 11 proven feminine qualities you can use to really shine, attract and captivate the heart of any man you choose, and while making you look irresistible
Highly effective and simple ways to make him hate the idea of living without you
And much more…
Imagine – in just a few moments from now, you could be learning the same secrets that have worked for others and helped the most. You could join those who have finally achieved a deep, loving, and lasting relationship with the man of their dreams – free of the fear of losing him.
Forget about trying to be the cool woman, spending days of your life coming up with stimulating conversation, acting overtly sexual, or playing hard to get. Let me show you how to draw him to you with a lot less effort.
It's time to make him do more of the work. And that's exactly what he'll do once he sees you using my methods. He won't want to lose you!
Are You Finally Ready To Know How To Keep Him Interested For Good?
If so, you are probably wondering right now, what it's going to cost you to get access to my special mini-course.
Well I can tell you, it's going to cost less than you would pay to escape just on hour of worry. You're probably already aware that most people don't fix their relationship issues until it's nearly too late. Then it can cost you far more than this small investment.
So I urge you…don't wait until it's too late.
You also know the value of your own time. Spending just a fraction of the amount of time I put into researching these methods would eat up many hours of your precious time.
And that's not even counting the hours you might spend on dates that leave you feeling empty and alone.
Now, you could skip this mini-course and consult with me at several hundred dollars an hour, but who knows (realistically) how many hours it would take me to convey everything I've learned.
But I'm not going to charge you anywhere near the cost of consulting me in person.
Your investment for receiving this life changing mini-course is only $9
And that's because it's delivered digitally, so you can download it instantly!
So go ahead click the buy button below and start the video just seconds after you check out.
Listen, with everything you're getting here, I can confidently tell you I've done 99% of the hard work for you. I've tried to think of everything you need to shatter any excuses or roadblocks you have standing in your way. But in case you're still a little bit unsure, I want you to know that you're protected by my amazing…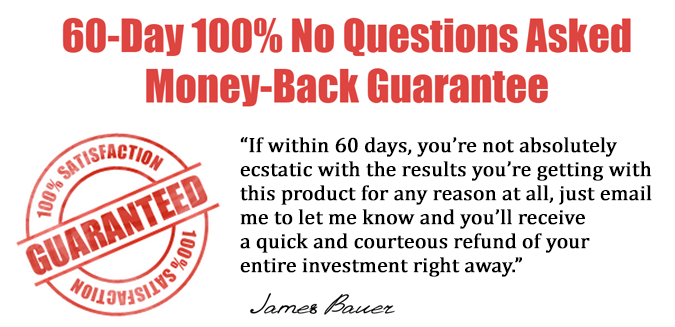 60 Days. No Questions Asked.
No-Worries. Iron-Clad Guarantee!
Get your copy of Keep Him Interested today, try it out for 60 entire days, and if you don't see a change in your man or a boost in the excitement in your relationship – or for any reason whatsoever during that time you decide this is not right for you – I want you to contact me that very day and let me give you a fast 100% refund.
Why am I taking all the risk?
Because I believe so strongly in what this information can do for you. I have seen so many other women, just like you, dramatically improve their love life and relationships. Use this material. Then watch what happens in the next few weeks.
Now, that's a pretty bold guarantee on my part. But the only guarantee I need from you is a willingness to really apply my ideas in your life. That will be enough to make it worth the time and effort I took to put this training material in your hands. I'm trusting in the results you're going to get with "Keep Him Interested."
It's focused information. Condensed and concentrated to pack a powerful punch! You'll see the results or your money back! It's that simple.
Now with that out of the way…
Click the "Add To Cart" button now and upgrade your relationship power in just seconds.
Gain Access Today Before the Special Offer Expires!
"Yes! James and Amy; please give me INSTANT access to ""Keep Him Interested"
I understand that I will receive INSTANT access to download and watch so I can know what it takes to not lose him and keep him keen
I will have access to the entire mini-course in video format so I can watch it on my PC, MAC or tablet
I will have access to all the strategies and instructions are condensed and focused on the one goal of keeping him interested.
I also understand that I have a full 60-day 100% No Questions Asked Money Back Guarantee so I have nothing to lose and everything to gain!
Just $9!

Questions? Call 1-800-755-4364 or
contact Support
Think about it. Where will you be a year from now? Will you still be struggling to hold the attention of your man, fearful of losing him, slowly dying of boredom, while others around you seem to be enjoying a loving and flourishing relationship?
Or will you be enjoying the confidence that comes from knowing your man would never leave you because he feels exhilarated to be around you?
I've gone through the effort to discover what works best with men. Now you don't have to. I've worked out all of the kinks, and perfected a process that truly works. Don't pass up an opportunity like this. You have absolutely nothing to lose and everything to gain.
So act now.
Don't live in fear of losing him!
James Bauer and Amy Waterman
P.S. – The clock is ticking! This special offer may be pulled at any time. I can't guarantee this price later. So hurry… it's only $9 right now.
P.P.S – Some of the techniques you'll learn have been under lock and key, reserved for private use with our clients. Only those who take advantage of this now will get access. Try this out for 60 days for just $9 and you'll discover why. And listen, if it's not for you. Simple! Just shoot me an email and my support team will refund you on the spot! No risk, No hassle, No problems.
---
Want to learn more about our iron-clad, 60-day, 100% refund policy?
Check out our refund video below