Do You Know the Simple and Fun Ingredient You Can Use to Bond Faster With a Man?
Learn the one playful thing you can do to deepen your relationships and breakthrough difficult emotional barriers.
(Hint: It's something you probably do every day!)
From: James Bauer
Re: Is there really one simple thing I can do to help attract and bond faster with a man?
Dear Friend,
Let's face it. We spend a lot of time and effort trying to attract the opposite sex.
But what would you do if you found out that there's one simple way to make the whole process a lot quicker and easier?
It's a proven fact that there's something you and I do just about every day that helps us relax, lowers our stress levels, reduces tension, improves our mood and can help us attract a partner.
So what is this one simple thing?
It's the gift of laughter!
Think of how you feel when something is funny to you. A smile spreads across your face, your mood instantly improves, you feel lighter and more relaxed, and the best part is that the laughter makes you forget your troubles in an instant and what's really great is that it's easily infectious!
Now, think of all of those feelings and how they can impact your interaction with a man. Whether you're on a first date or you've been married for years, doesn't laughing with that person enhance the bond between you?
But what do you do if you don't think of yourself as funny or you're intimidated by the thought of interjecting humor into a conversation?
The great news is that these factors are easy to tackle especially when…
You Learn How to Use the Power of Laughter to Attract a Man and Enhance the Bond That Exists in Your Existing Relationships
You already know how great it feels to laugh. Think of the happiest moments in your life. I'm willing to bet that most of those memories, if not all of them, involve something funny along with lots and lots of laughter.
So doesn't it make sense that infusing laughter into your interactions with men can make you more attractive and strengthen the bond between you?
You may worry that you don't know how to make a guy laugh or that you can't tell a joke well. It's actually not as hard as you might think.
My point is that laughter bring us together in ways that nothing else does. It helps us to be more relaxed and open with each other and it can create memories that last a lifetime.
And by uncovering the right tools and strategies, you can use laughter as a powerful method of attraction.
In "Get Him Laughing", You Will Learn…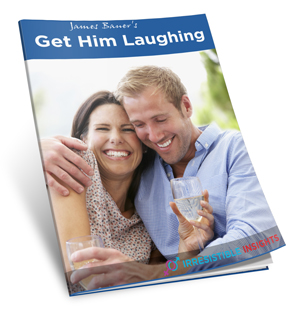 How to Use Proven Strategies That Will Help You Understand the Benefits of Laughter and How to Use It to Positively Influence How Others View You Simply By Being Playful and Fun
Many women feel intimidated when it comes to not only opening up to a guy but also getting him to do the same. The truth is that laughter and sharing humor is one of the fastest ways to break down the barriers to communication. So when I realized how many women were giving up on truly connecting with someone they cared about…
I knew I had to do something to make things easier for them.
Throughout my career, I've evaluated tons of blog posts, video series, magazine articles, and books on this intriguing subject. Due to the information I uncovered, I knew it was necessary for me to tell you of my findings by creating this video for you.
I wanted to ensure that I was providing you with the most valid and up to date information, so I also took the time to read through related scientific studies in addition to hundreds of conversations with men to find out how important laughter is to them when they are interested in getting closer to someone.
Just as you will find with all of the other videos and mini-courses that make up the Irresistible Insights series, I take pride in making it my personal goal to supply you with easy and proven methods and strategies that can help you unblock any barriers to attracting a man and finding ways to create a stronger bond with him.
This video contains everything you need.
By watching this 38 minute video, you'll find proven facts and tips that will help you learn how you can use the playful and sexy power of laughter to flirt and spice things up so you can quickly and instantly gain his interest.
But it's also important that you understand…
I've made sure to include specific tips and strategies that will show you how to keep his interest whether you're meeting for the first time or you've been together for years.
In this video, you'll uncover proven facts and methods on how to use humor to your advantage even if you don't have a clue as to how to be funny so you can stop worrying about what to do and instead focus on making him laugh and how it will bring the two of you closer.
Some of the Things You'll Discover Include…
The benefits that laughter brings into our lives
How laughter can enhance new as well as long-standing relationships
The surprising reasons why laughter makes us more attractive
Understanding how you can unleash the humor naturally existing inside of you
The 4 best types of humor to rely on for the greatest success
After talking and working with so many women, I've reached the understanding that…
Nothing Tops Years of Experience
For many years, I've been so fortunate to have had the opportunity to work with so many fearless women who approached me and trusted me to help them with finding a way to attract and meet someone so they can be in a strong and healthy relationship.
I've also conducted tons of research on this subject and by taking those findings along with my own professional expertise, I developed this exclusive Irresistible Insights video for you.
While this video will only take you 38 minutes to watch – you will find that it still contains many methods and strategies that you can master in no time!
In addition to my professional work, I have included many years of study and research into the content you will find included in this video. Now it's time for me to share this information with you so you can see firsthand how my years of experience have helped hundreds of women just like you.
Unleash the Power of Laughter
Laughter adds levity to just about any situation and it can help you to open up to a man and cause him to see you in a different and more appealing way.
Humor can create positive feelings between people and it also has surprising health benefits. Bringing you this type of information is part of my life's mission to work with women just like you so they can discover just how easy it is to infuse laughter into their conversations whether they think they're funny or not. Using laughter is a powerful tool and when used correctly, you can make yourself much more interesting to the man in your life no matter how long you've known him.
So if you're curious to discover just how easy it is to use your sense of humor and make your interactions more playful, more sexy and overall more fun, then you need to watch this video to learn more.
Imagine How Fun Your Life Would Be If You Could…
Attract a guy simply by instilling humor into your interactions with him
Use humor to create a positive and playful atmosphere with the man in your life
Follow 7 easy and proven strategies to develop your sense of humor
Understand the best methods of humor you can use to achieve a desired effect
Avoid awkward moments by knowing what to stay away from when it comes to tapping into the power of laughter
You can learn how to easily do this and much more when you watch the Get Him Laughing video.
Since this video contains such a wealth of information, you're probably wondering just how much it will cost you to access it.
What's great about this video is that for a limited time you can…
Watch Get Him Laughing Today for Only $9!
Once you purchase it, the video is instantly available for you to download and watch for only $9.
Why am I offering Get Him Laughing for such a low price?
I know times are still tough for some people. No matter what your budget is, you can afford this video. I want you to be able to use laughter to create a bond that will help you to build and maintain long-lasting and healthy relationships.
If you're familiar with the other videos and mini-courses that I have created for the Irresistible Insider family, you know how it is my belief that when you commit to something, regardless of its price or cost, you can appreciate it more as well as take it more seriously.
My many years of hard work and experience have taught me how important it is to provide my audience with a high level of value in the videos and mini-courses that I create for them. This value is included in every single product I create for you and that's why I know you will want to share them with your friends and loved ones because they will benefit from the information I've included as well. I want you to live a happier life through creating stronger bonds in your relationships with the inclusion of laughter and humor and watching this video will help you with that.
So if you're still not sure why I'm making this video available for only $9, it's simply because it's important to me that you live the life you've always wanted to.
My life's work has focused on making sure that women find easy and proven tools to attract men in a fun, powerful and sexy way. In fact, I've devoted my career to this very purpose. I've also found that women have the most chance for success when they take steps toward what they truly want and how important it is for them to act fast.
All you need to do to download the video for only $9 is to click on the "Buy Now" button below.
You can feel comforted knowing that Get Him Laughing along with all of my other videos and mini-courses in the Irresistible Insights series are backed by my…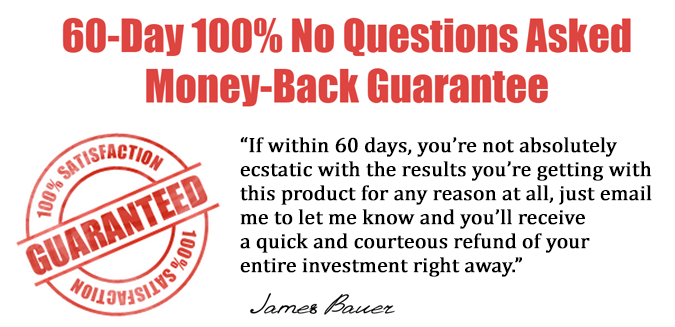 It is an important part of my life's work that you learn about as many tips and strategies available to help you attract a man and develop a bond with him so you can be happy and live the life you've always dreamed of.
I stand behind this video as it contains the proven techniques and methods you can use to attract a great guy through using your sense of humor and get him to notice you. In fact, I believe in the content included in this video so much that I'm willing to take on ALL of the risk and put my neck on the line for it.
Sound like a fair deal to you?
It's time for you to start using laughter as a sexy and powerful tool so let's get started now!
Get Instant Access "Get Him Laughing" Today
"Yes! James, I want access to this video now so I can learn how to attract men and improve my relationships by using my sense of humor in a playful and fun way.
I understand that I will receive INSTANT access to download and watch Get Him Laughing
I will uncover all the tools and strategies that will help me to attract men by showing them my sense of humor to create an environment that enhances the bond between us
I also understand that I have a full 60-day 100% No Questions Asked Money Back Guarantee so I have nothing to lose and everything to gain!
Just $9!

Questions? Call 1-800-755-4364 or
contact Support
Wishing You the Very Best,
James Bauer
P.S. Please let me know how Get Him Laughing made a difference in helping you to attract and connect on a deeper level in your relationships. Your happiness is very important to me.
P.P.S. You risk nothing. I'm taking on all of the risk for you to watch this video. The 100% money back guarantee means that you are either happy with it or it costs you nothing.
Download the video today!