Is it Possible to Take My Friendship with a Guy and Turn it Into a Hot Romance?

Learn how you can spark romantic attraction to move your relationship from the "Friend Zone" to the "Hot Zone"!
From: James Bauer
Re: Can I really pursue a romantic relationship with someone I'm friends with?
Dear Friend,
Do you have a male friend who you're secretly attracted to?
Maybe you've had feelings for him for a long time but weren't sure what to do about it. You've spent a lot of time together and have a lot in common but you don't know how to get him to think of you in a different, more romantic way.
Sound familiar?
Many women find themselves in this same scenario. They realize that someone they're already close to may just be the perfect person to find romance with. They want to take things further but they're worried the other person doesn't feel the same way or they may risk losing that person in their life if they reveal their true feelings.
So how do you take that chance without jeopardizing your friendship with him?
Before you rush into trying to take your friendship to the next level, you need to know that you can…
Turn a Friendship into Romance by Learning How to Spark Romantic Interest
You know how it goes. It's no fun to admit you have feelings for someone only to find out they don't feel the same way.
But wouldn't you rather take steps to find out if there really is something between the two of you?
Or would you prefer to wonder for the rest of your life how things could have been if only you had taken the time and effort to find out how he really feels about you?
I'm willing to bet you'd rather find out if there's a chance for you to find romance than live your life alone and in the dark with your true feelings hidden.
And by taking the right steps and following proven techniques, you can find romance with someone you consider a friend.
With "From Friend Zone to Hot Romance," You Will Discover…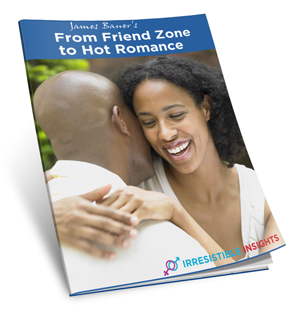 How You Can Use Strategic Methods to Move Your Friendship into a Romantic Relationship
Most women are worried that they'll ruin a friendship with a guy if they admit they have feelings for him. It's hard enough to admit how we feel to anybody let alone someone we're close to, especially if it means we could risk losing the special bond we have with them.
Once I realized the turmoil women felt when faced with this situation, I knew it was time for me to do something to help them.
I took it upon myself to dig through old-school research plus hundreds of blog posts, magazine articles, books and interviews on this subject. It was then that I realized I had to create this special video for women just like you who are dealing with this issue.
Just like all of the other videos and mini-courses that are in the Irresistible Insights series, I have made it my ambition to give you the easiest and most straightforward methods to remove any roadblocks that prevent you from finding a happy and fulfilling relationship.
This video does exactly that.
Throughout this 45-minute video, you will uncover simple ways to learn how your friend feels about you and whether or not he is willing to look at you in a more romantic way.
And you'll also learn…
You can use easy techniques that will help him to see you as more than a friend. This will help you decide if pursuing a romance with him is worth your efforts.
When you watch, From Friend Zone to Hot Romance, you'll discover ways to subtly get your friend's attention and help him see you in a different light.
Some of the Things You'll Learn Include…
Two reasons why he may not have already pursued a relationship with you
Why you should continue acting as a friend even though you want more
How to avoid making big mistakes when trying to change your relationship status
Ways to encourage him to see the potential in pursuing a relationship with you
After helping hundreds of women find success in their relationships, I now know that…
Nothing Can Replace Years of Experience
For the last several years, I have received many requests for help from women who wondered how they could change a relationship from a friendship into romance. It was my pleasure to help them, but because of multiple demands on my time, my fees for private consultation are very high.
In addition to my work on this subject, I've also performed a lot of research and delved into what prevents men and women from moving beyond friendship and into romance. It was by combining this knowledge along with my own professional experience, that I was able to create this special Irresistible Insights mini-course for you.
While this video is only 45-minutes long, you will find it contains a ton of information!
In addition to using my own firsthand experience helping women just like you, I put a lot of study and research hours in to help you find a solution.
Move Past Friendship and Find the Romance You've Been Looking For
Why waste anymore time trying to figure out how to get a guy to notice you as something more than his friend?
Life is too short to not take action and I've made it my goal in life to help women move past what's holding them back so they can discover the happiness they deserve. By discovering how to get him to see in a romantic light, you can test the waters of a real romance with him.
So if you're curious about how your friend feels about you or whether or not you should pursue him, this video is a perfect way for you to sort out your decision.
Imagine What Life Would Be Like If You Could…
Date someone who you already had a close relationship with
Discover a way to flirt with someone to get them to notice you more
Trigger sexual attraction when the time is right without appearing desperate
Spark his desire to have an exclusive relationship with you
Channel your authentic self and develop the courage to go after what you want
You can discover how to do all of this and more by watching From Friend Zone to Hot Romance.
But first, you're probably thinking that if this video contains all of this great information, how much is it going to cost me?
The good news is that for a limited time, you can…
Watch From Friend Zone to Hot Romance for only $9!
I wanted to make sure that this video is available to you for only $9 because:
Even the tightest of budgets has room to afford this video. I want you to find the happiness you deserve and discover how you can find it with someone you already know and are close to without worrying about the cost.
If you're familiar with the other videos and mini-courses that are a part of the Irresistible Insider series, you know that it is my philosophy that when you make a commitment to something, regardless of how much it costs, it will be more useful to you and you will also take it more seriously.
It has always been my mission to provide my audience with an exceptional amount of value while reducing the total time commitment you have to make for studying my material. This mission resonates in every video and mini-course that I create. And it is because of this that it increases the chance that you will share this video with your friends and loved ones and they can benefit from the information as well. I want you to find love and romance with someone you already know and are attracted to so you can find happiness in a fulfilling and healthy relationship and this video was created to help you with that.
So if you're still curious as to why this video is available for only $9, it's simply because I want you to use all of the methods and strategies I've included in it so you can successfully turn friendship into a romantic relationship.
It's very important to me that I have the ability to use my career as well as my life to help women find the courage to pursue a relationship they really want (rather than settling). It's very important to me that you discover how simple it is for you to do this so you can have the relationship you've always wanted.
In order for you to take advantage of my special offer, simply click on the "Buy Now" button below and you'll be granted access to start watching the video right away.
It will also give you reassurance to know that From Friend Zone to Hot Romance along with all of the other videos and mini-courses in the series are backed by my…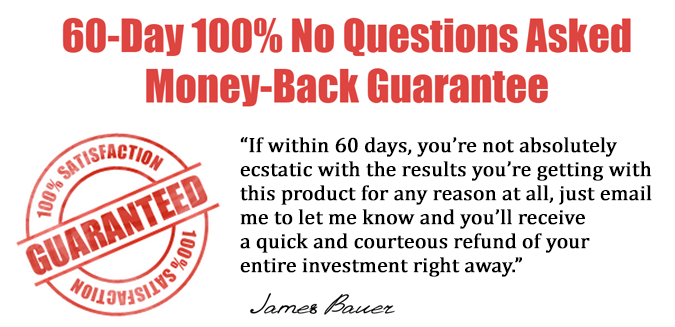 It is possible to move from friendship status into a hot romance. You owe it to yourself to at least try. Go for the relationship of your dreams.
I stand behind every bit of information in my videos and mini-courses and this one contains proven methods and techniques that will get that special guy friend to notice you as relationship material so you can find happiness together. To be honest, I believe so much in what this video has to offer that I'm willing to take on ALL of the risk and put my money where my mouth is.
How does that sound?
There's no time like the present to get started!
Download & Watch "From Friend Zone to Hot Romance" Now!
"Yes! James, I want watch this video now so I can learn how I can turn my friendship with a man into a romantic relationship.
I understand I will receive INSTANT access to watch From Friend Zone to Hot Romance and I will uncover the techniques for sparking romantic attraction with a guy friend and get him to notice me in a more romantic way.
I also understand that I have a full 60-day 100% No Questions Asked Money Back Guarantee so I have nothing to lose and everything to gain!
Just $9!

Questions? Call 1-800-755-4364 or
contact Support
P.S. Please let me know how From Friend Zone to Hot Romance makes a difference in your life. I care about your happiness and well-being.
P.P.S. You risk nothing. I'm taking on all of the risk for you to access my research findings. The 100% money back guarantee means you are either happy with it or it costs you nothing.
Order today!