Do You Want to Find a Way to Create a Deep Romantic Connection With Your Man?
Keep reading to discover how you can get him to appreciate and desire more meaningful romantic moments with you.
From: James Bauer
Re: How can I connect with my guy on a more romantic level?
Dear Friend,
Are men capable of being romantic?
Many women often wonder if they're the only ones who care about creating romance in their relationships.
Even if they feel like their man is deeply in love with them, trying to create romantic scenarios ends up being more of a challenge than it's sometimes worth. Either their guy thinks of romantic gestures as pointless or he thinks you're judging him for doing something wrong.
Does this sound familiar to you?
If this is a scenario that is causing you problems in your relationship, then it's likely that the issue needs to be addressed before you give up on your guy completely.
But while most woman struggle with trying to create romance in their relationships in a non-threatening way, you won't have to.
You're not alone and in spite of the frustrations you may be feeling, there's a way that you can make things simple for you and your relationship.
Don't you want to give your relationship the best possible chance of being everything you and your partner desire?
You can create this when you…
Use Proven Tools to Develop a Deep Romantic Connection With Your Man
You're already experiencing the frustration of trying to create romantic moments in your relationship while your guy doesn't seem to care let alone take notice.
But when you use my proven methods, you can create experiences that will meet your needs for romance without pressuring him or making him feel like he's not doing enough to make you happy.
You'll find everything you need in my special mini-course, Sweep Him Off His Feet. In this mini-course, I cover the differences in how men and women view romance and how you can use these differences to appreciate the romantic moments you experience in your relationship.
My extensive experience as a relationship coach and as a dating expert has provided me with the opportunity to meet many women throughout my career. Many of these women ask for my advice on why men don't understand a woman's need for romance in their relationships. By the time I talk to them, they are ready to give up on romance with their guy altogether.
Once I came to the understanding that lots of women were having the same issues with their partner, I delved into a lot of blog, books, and magazines articles to research this specific subject.
In addition to doing a lot of research, I also read through the pages of notes that I have gathering from spending HOURS talking with women who are experiencing this same problem with their man.
Just like all of my other Irresistible Insights mini-courses, I always make sure that I provide you with viable methods to solve the specific relationship problems you may be facing.
This mini-course holds that same value and more.
After reading my mini-course, you will understand how men view romance and how you can use simple tools to create romantic moments that both of you will enjoy and appreciate so you can create a long-lasting bond between you.
In Sweep Him Off His Feet, you can:
learn about problems that real-life women had with the men in their lives and what my advice was to them on how they can create romantic scenarios their men will cherish along with them
discover a way to talk to your guy about building romance into your relationship without creating tension or resentment
apply three proven methods that will allow him to savor romantic moments with you and appreciate you being in his life
avoid the common mistakes that women make when trying to build romance into their relationships
Even though this mini-course is only 16 pages, it is jam-packed with valuable information to help you …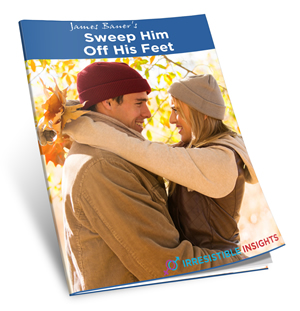 Create Romantic Encounters that Will Enhance and Strengthen Your Relationship
By focusing on strengthening your relationship, you can:
learn how to enjoy the time that you spend together
understand and create the kind of romance that men want to experience
easily ask specific questions to get the most out of the three proven tools I discuss within the mini-course
have a deeper appreciation of what your man needs from you and how this will help you on the path to a healthy and committed relationship
Given the wealth of information I have included in my mini-course, you may be wondering how much it will cost you to get it.
I Want To Make You A Limited Time Offer of $9
Why it's just $9
I'm only charging $9 for this Irresistible Insight mini-course, for 3
reasons:
$9 puts the mini-course within reach of pretty much everyone.
It's important to me that you have the answer now, instead of putting it off because you have to save for it.
If you've followed my work at all, you know I believe that making a
commitment to something (even a $9 one) helps you to take it
seriously and actually follow through on reading and using it.
I believe in providing incredible value because I know that's the
best way for you to be excited about this information,
enthusiastically use it, and tell your friends going through the
same thing about it. The goal here is to help you make a decision
that will lead to your happiness, and this is the guide that can do
it.
If you're thinking, "$9 is so cheap! What's the catch?" … there's
none.
I've devoted my life to helping women realize their full potential and getting the happiness they deserve, and I never want price to be an issue…
I just want you to get real results as soon as possible.
All you have to do is take advantage of this by clicking the "Buy Now" button below.
Oh, and I should mention, as always, this is covered by my iron-clad
100% guarantee…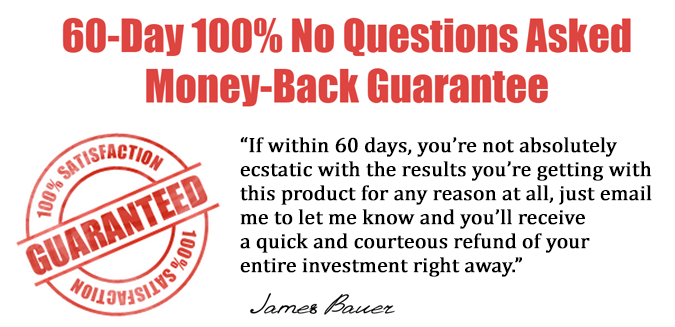 It's of the utmost importance to me that you achieve the peace of mind
and happiness you deserve.
I'm so confident that these proven principles will work for you and
get you the love and commitment you desire, that I'm willing to take
on ALL the risk and put my money where my mouth is.
Sound fair?
Lets Get Started!
Click on the button below to take advantage of this special offer before it goes away!
Get Instant Access To
"Sweep Him Off His Feet"
"Yes! James, I want to get my hands on this mini-course so I can get him to appreciate and desire more meaningful romantic moments with me."
I understand I will receive INSTANT digital access to "Sweep Him Off His Feet"
I will also receive 10 detailed question and answers case studies from
women who went through the exact situation I'm going through.
I also understand that I have a full 60-Day 100% No Questions Asked
Money-Back Guarantee so I have nothing to lose and everything to gain!
Just $9!

Questions? Call 1-800-755-4364 or
contact Support
Wishing you the very best,
P.S. I encourage you to let me know how Sweep Him Off His Feet helps you and your partner. I wouldn't do this if I didn't care about you and your happiness.
Remember there is absolutely no risk in you accessing this mini-course. My 100% money-back guarantee means that you'll either be happy with it or you won't pay a thing.
Hurry and order your copy now before this limited time offer expires!