Are You Ready to Uncover the Secret to Getting Your Man to Appreciate You More than Ever Before?
Discover Three Simple Steps to Getting Him to Cherish You and Create a Long-Lasting Bond Between You
From: James Bauer
Re: How can I get my guy to truly appreciate what we have together
Dear Friend,
Do you worry that you're more "into" your relationship than your man is?
Many women face this question at some point in their relationships.
Either their guy seems more interested in spending time with his friends than you or he pulls away just as you're getting close.
Or the most common problem women face is that he just simply won't commit.
It's enough to drive you crazy, right?
If this is something that you're faced with in the relationship you're in, it's probably time to evaluate your situation and decide if your man is worth holding onto.
The one thing you won't have to worry about is trying to figure out what to do all by yourself.
You're not the only woman to have this issue and you're definitely not alone in trying to decide what you should do.
But no matter how frustrated you are, isn't the relationship you have with your guy worth saving?
I'm here to tell you that there's an easy way to get your man to appreciate you when you…
Use Three Simple Strategies to Get Your Guy to Cherish What You Share
You already know how frustrating it can be when your guy doesn't seem to care about what you've built together.
But when you use proven methods, you can get him to appreciate what you have and the memories and experiences you have created as a couple.
That's why I created the special mini-course, Get Him to Cherish Your Relationship.
In this mini-course I show you the common reasons why women feel their man isn't into their relationship anymore and what they can do to fix it.
Being a relationship coach as well as a dating expert has allowed me to meet many women during my career.
Many of them seek my advice on how to get their guy to appreciate them and their relationship as much as they do.
By the time I talk to them, they are already overwhelmed, unsure how they can make things better.
After realizing that many women were faced with this common problem, I researched a lot of books, blogs, and magazines articles on this particular subject.
In addition, I also sorted through pages of notes that I have compiled from spending HOURS speaking with women going through this exact problem.
Just like all of the other Irresistible Insights mini-courses, I make it a point to provide you with viable solutions to the specific relationship issues you may be faced with.
This mini-course has that same value and more.
After reading my mini-course, you will see how you can use proven methods to get your guy.
After reading my mini-course, you will see how you can use proven methods to get your guy to realize how special your relationship is and how to make him remember how much your life together means to him.
In Get Him to Cherish Your Relationship, you can:
discover similar issues faced by other women and my advice on what they can do to get their man to cherish what they have
learn how to discuss the issue with your guy in a non-threatening way
apply three proven methods to get him to appreciate you and your life together more
avoid common mistakes that women make when faced with this issue that will only makes things worse
My mini-course is filled with key tips and strategies so that you can…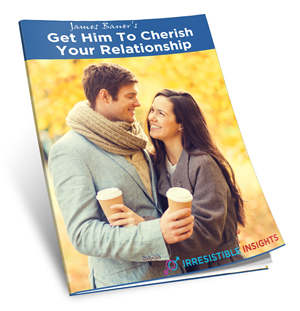 Enjoy a Committed and Healthy Relationship that Creates an Unbreakable Bond Between You
When you focus on your relationship together, you can:
learn how to focus on each other instead of the relationship itself
switch your way of thinking from traditional thoughts to ones that will help you appreciate each other more
vital strategies so you can easily apply the three tools I discuss within the mini-course
easily influence your man's thoughts (without him noticing) to help him appreciate the life you are building together
If this mini-course is exactly what you need, you may be wondering just how much accessing it will cost you.
I Want To Make You A Limited Time Offer of $9
Why it's just $9
I'm only charging $9 for this Irresistible Insight mini-course, for 3
reasons:
$9 puts the mini-course within reach of pretty much everyone.
It's important to me that you have the answer now, instead of putting it off because you have to save for it.
If you've followed my work at all, you know I believe that making a
commitment to something (even a $9 one) helps you to take it
seriously and actually follow through on reading and using it.
I believe in providing incredible value because I know that's the
best way for you to be excited about this information,
enthusiastically use it, and tell your friends going through the
same thing about it. The goal here is to help you make a decision
that will lead to your happiness, and this is the guide that can do
it.
If you're thinking, "$9 is so cheap! What's the catch?" … there's
none.
I've devoted my life to helping women realize their full potential and getting the happiness they deserve, and I never want price to be an issue…
I just want you to get real results as soon as possible.
All you have to do is take advantage of this by clicking the "Buy Now" button below.
Oh, and I should mention, as always, this is covered by my iron-clad
100% guarantee…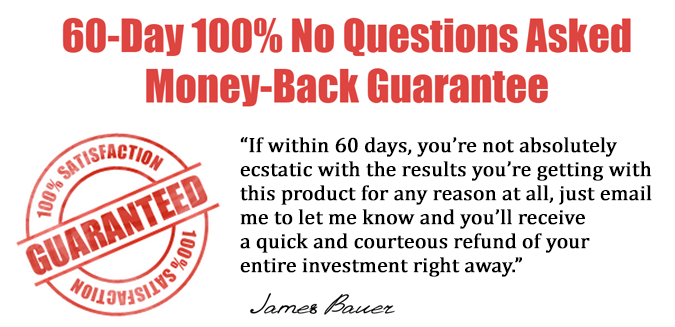 It's of the utmost importance to me that you achieve the peace of mind
and happiness you deserve.
I'm so confident that these proven principles will work for you and
get you the love and commitment you desire, that I'm willing to take
on ALL the risk and put my money where my mouth is.
Sound fair?
Lets Get Started!
Click on the button below to take advantage of this special offer before it goes away!
Get Instant Access To "Get Him to Cherish Your Relationship"
"Yes! James, I want to get my hands on this mini-course so I can discover three simple steps to get him to cherish me."
I understand I will receive INSTANT digital access to "Get Him to Cherish Your Relationship"
I will also receive 10 detailed question and answers case studies from
women who went through the exact situation I'm going through.
I also understand that I have a full 60-Day 100% No Questions Asked
Money-Back Guarantee so I have nothing to lose and everything to gain!
Just $9!

Questions? Call 1-800-755-4364 or
contact Support
Wishing you the very best,
P.S. I encourage you to let me know how Get Him to Cherish Your Relationship helps you and your partner. I wouldn't do this if I didn't care about you and your happiness.
There is absolutely no risk to access this mini-course. My 100% money-back guarantee means that you'll either be happy with it or you won't pay a thing.
Hurry and order your copy now before this limited time offer expires!