Are You With A Man You KNOW
Is Not Right For You?
Here's how to make the cleanest, most
drama-free break possible.

From: James Bauer

Re: "Help! I Love A Man Who Isn't Right For Me"…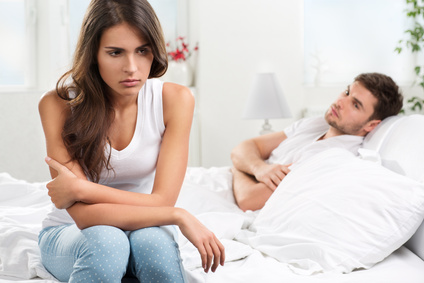 Dear Friend,
This happens to more women than you might think…
You meet a man you're drawn towards emotionally, but you know that he is not right for you.
It could be that he just got out of a relationship…
…or he sometimes turns into a different person that makes you
uncomfortable.
…or worse, he could be married, and you know your actions could
destroy the lives of other people.
Whatever the reason, what do you do?
How do you overcome it?
Deep down, you know you want to shut it off.
Otherwise you wouldn't be here.
But, it's not like it's a light switch you can just flip off…
…or is it?
Right now, I want you to realize that you're not alone in this.
This is a common problem that many women run into.
It's not your fault
It's not like you planned on this happening.
If you're like most women, all you really want is a man that cares about you and treats you right.
Sometimes you just fall for the wrong guy.
But the truth is, you deserve all the happiness this life has to offer you.
It's never worth settling.
People that settle are people that feel like they don't have choices.
They feel trapped, or torn, and they don't know what to do.
And, if you're being honest with yourself, wasn't it a "torn" feeling
that brought you to this page?
A feeling of having no where to turn?
Afraid that you'll make a choice that you'll regret?
Well, I want you to know…
You CAN Confidently Make The Right
Decision And Never Look Back
Right now, you're at a fork in the road.
One path leads to almost certain unhappiness.
The other holds a promise of lasting love and companionship.
You see, our emotions drive our motivations.
Most of the time, our natural motivation drives us in a positive
direction.
However, there are times when a person's heart is powerfully drawn
toward the wrong person… the wrong path.
Of all the emotions we feel, love may be the strongest and most
enduring.
With the right partner, you can experience relationship bliss.
With the wrong partner, you can feel trapped, even anchored to a toxic
love before the journey toward the right person even begins.
In "Help! I Love A Man Who Isn't Right For Me",
I'm going to show you…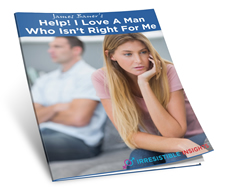 How To Make A Decision You'll Never Regret, And Channel Your
Energy, Passion, And Purpose
Towards Landing A Man More Amazing
Than
You Can Currently Imagine.
After receiving a large number of emails from women suffering silently
because they're torn without a clue what to do…
I knew I had to do something.
So I put together this condensed mini-course after researching loads of
books, magazine articles, and even blog posts on the subject.
More importantly, I sifted through hundreds of notes gathered from
spending HOURS talking to women actually going though this exact
experience.
As with all of my Irresistible Insights, I aim to provide you with a
straight-forward solution to the exact relationship setback that's
causing you so much pain.
This one is no different.
When you read this short 19-page mini-course you'll discover exactly what
you need to know so you can be happy and confident in your decision in
the shortest time possible.
But on top of that.
I've included actual question and answers from 10 different women
going through similar situations. You can read in detail what's their
struggle
Inside, you won't find any fluff or theory… just the raw information
and advice you need to move forward and find the RIGHT man for you.
Here's Just a LITTLE of What You'll Discover…
The first step to overcoming the feelings of loving a man who is not
right for you.
How to accept the fact he is not right for you (and what to do about
it)
Positive choice options to move you in the right direction (to free
you emotionally to find the man you're supposed to be with)
Learn how to limit any sadness that may overcome you from taking
charge and removing yourself from a situation that you know is not
right (so you can flourish quickly when you find the right man
for you)
Develop a confidence that will draw the right kind of man towards
you.
And much, much more!
After working with so many women, I've come to realize…
Experience Trumps Theory
I've been fortunate to learn from hundreds of courageous women who
were willing ask me for help and change their life path in order to
attain the happiness they desired.
On top of that, I've done a tremendous amount of research on this
topic and combined it with my own personal experiences to write this
Irresistible Insights mini-course.
Don't let the size (just 19 pages) fool you.
Hundreds of hours of research went into this compact mini-course.
And I've seen, first hand, the results this information has helped women just
like you achieve.
Don't do it alone
Right now you have a real-life answer to what's hindering your
happiness.
I've devoted my life to helping women realize their full potential and
have the happiness they deserve, and deciding on the right man is one
of the most important decisions you can make, so I want to do this for
you.
So if you find yourself at this crucial crossroads, unsure of what to
do, and if you need a proven step-by-step plan for confidently making
the right choice that you'll never regret, then this is specifically for you.
Imagine…
Having complete emotional freedom, not being trapped by every
emotional wind that comes along.
Making a clean break, and getting back to being your normal, happy
self again.
Enjoying the love and happiness of an amazing man, without constantly second-guessing yourself.
Knowing, deep in your heart that you've made the right decision. (No
more sleepless nights spent wondering)
Why it's just $9
I'm only charging $9 for this Irresistible Insight mini-course, for 3
reasons:
$9 puts the mini-course within reach of pretty much everyone.
It's important to me that you have the answer now, instead of putting it off because you have to save for it.
If you've followed my work at all, you know I believe that making a
commitment to something (even a $9 one) helps you to take it
seriously and actually follow through on reading and using it.
I believe in providing incredible value because I know that's the
best way for you to be excited about this information,
enthusiastically use it, and tell your friends going through the
same thing about it. The goal here is to help you make a decision
that will lead to your happiness, and this is the guide that can do
it.
If you're thinking, "$9 is so cheap! What's the catch?" … there's
none.
I've devoted my life to helping women realize their full potential and getting the happiness they deserve, and I never want price to be an issue…
I just want you to get real results as soon as possible.
All you have to do is take advantage of this by clicking the "Buy Now" button below.
Oh, and I should mention, as always, this is covered by my iron-clad
100% guarantee…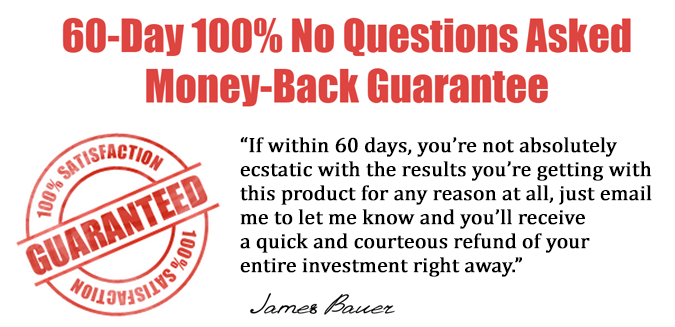 It's of the utmost importance to me that you achieve the peace of mind
and happiness you deserve.
I'm so confident that these proven principles will work for you and
get you the love and commitment you desire, that I'm willing to take
on ALL the risk and put my money where my mouth is.
Sound fair?
Lets Get Started!
Get Instant Access To "Help! I'm With A Man That's Not Right For Me"
Yes! James, I want to get my hands on this mini-course so I can make the cleanest, most drama-free break possible (if necessary).
I understand I will receive INSTANT digital access to "Help! I'm With
A Man That's Not Right For Me"
I will also receive 10 detailed question and answers case studies from
women who went through the exact situation I'm going through.
I also understand that I have a full 60-Day 100% No Questions Asked
Money-Back Guarantee so I have nothing to lose and everything to gain!
Just $9!

Questions? Call 1-800-755-4364 or
contact Support
Wishing you the very best,
P.S. Please be sure to tell me how the Help! I Love A Man Who Isn't Right For Me helped you. I care about your happiness.
P.P.S. You risk nothing. I'm taking all the risk for you as you try this mini-course. The 100% money back guarantee means you'll be happy with it or it costs you nothing.
Hurry! Don't waste another day.