The Relationship Rewrite Method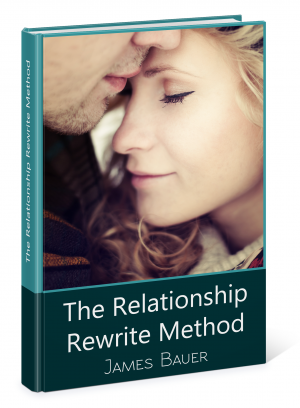 Hi, I'm James Bauer, and I'm so glad to tell you more about Rewrite Your Relationship.
Because if things feel like they're falling apart with your man…
If he's already out the door...
If your heart hits the floor every time you check your phone and he still hasn't responded...
If you're at the point where nothing else matters except getting him back...
Then you are in the exact right place doing the exact right thing…
Because, while several of my courses touch on this topic, and oftentimes do the trick, none of them are specifically designed to get your man back at all costs.
And what you're about to discover here may be the only REAL chance you have to ever get your man back for good.
The heartache you're feeling right now, the physical pain in your chest, the sinking feeling in your gut…
It's miserable and frustrating and it's easy to feel helpless, even desperate.
But right now I need you to focus, because if you know there's something special about this man, and that you won't feel right until you get him back, there is no time to waste.
Now don't be alarmed, but one of the first things your man might do is rebound and your first instinct might make you react in exactly the WRONG way.
So before you do ANYTHING else, I'm going to show you a quick, simple way to stop that before any irreparable damage is done.
Listen, if he's already with someone new, in 99% of cases there's only one thing you can do to get him back and you'll find out how in a moment.
But you're going to have to act fast.
You see, what I'm about to show you is much more than a step-by-step guide to get your man back.
What you're about to discover is a way to "rewrite" the story of your relationship, to refocus on the love and uniquely romantic moments instead of the bad…
And to create a happy ending with your man that's more amazing than when you first fell in love.
Yes, you will have the step-by-step instructions on exactly what you need to do and say in order to get your man back where he belongs - at your side.
Yes, you will be able to make him see the you were meant for each other…
...And that your love is "one of a kind" and worth fighting for no matter what.
Yes, you will be able to close the door on past pains and create a bulletproof bond with your man stronger and more intimate than anything either of you have ever experienced.
But more importantly, you will discover just how much power really you have in your relationship to create the epic fairytale romance you've always dreamed of.
No short term tricks, no smoke and mirrors, no stressful games, and no begging.
Because once you discover how to "rewrite" the story of your relationship…
You'll be able to become a master of his nuances, the little things that push him away or pull him irresistibly closer to you…
and you will never have to worry about your fairytale romance having a bad ending ever again.
In fact, once you understand what I'm about to show you, you'll immediately find it much easier to get him to actually listen to you…
...to finally connect directly to his heart in a way that skips past the resentment and bad memories…
And once you get him back, you won't have to struggle to keep him the way most women do.
Because here's what I know...
The fact that you're here shows me that you aren't interested in treating the symptoms that caused him to pull away.
You want a cure, to get the very root of the problem.
And that's exactly what you've found here.
A way to look deeper into the issues, to understand each other better, and the precise actions you must take and things you must say…
So that you can be the very best version of yourselves… so you can experience the very best version of your relationship.
This isn't a time machine to travel back to when things were "good."
This is a "rewrite" of your old relationship story into your DREAM romance that is stronger and more special than anything either of you have experienced before.
Here's just a glimpse of what you're about to discover:
How to get your man back in the shortest time possible -BEFORE it's too late - Using breakthrough neuroscience, boiled down into 6 simple steps any woman can follow.
The truth behind what went wrong- why he hardened inside, what started those long silences, those dirty looks, the resentment, the wandering eyes… And how, in just days, you can shuffle those memories and feelings into the far reaches of his mind so when he thinks of you, he will only think of the good times and the close feelings of love.
How to plant a seed of longing in his mind that makes him miss your smile, your touch, your smell… no matter how bad things have gotten.(This one thing will make him feel a hole in his life that only you can fill and he won't be able to get you out of his head)
How to rekindle the magic of the "Honeymoon Stage," powerfully trigger his chase instinct to fight for your love, and bulletproof your bond to weather any storm - Using a revolutionary technique to "Rewrite" your relationship
What you have to do as soon as humanly possible if he's completely cut off contact with you- This tactic is the surest way to get his full, undivided attention when things have gotten really bad...
Why 9 out of 10 women's first instinct to get their man back… is the absolute WORST thing you can do and often ruins any chance of getting back together with your man...
How to close the door on the past so that old wounds and arguments don't come back to haunt you...
What the couples that LAST do to strengthen their love when big issues and arguments threaten their relationship. (This is the #1 thing that gets couples to their 20th anniversary and beyond)
What you have to do to make your man see that getting back together with you is a win-win situation - This is crucial if you want to level the playing field (and slightly tip the scales of power in your favor)
PLUS- How to become a master of the little things in your relationship. Know what draws him in and what pushes him away to such a fine degree that he will feel you're the only woman who truly gets him - and he will never let you go...
And much much more...
Imagine what it will feel like to have him quickly and excitedly responding to your texts and calls again… to have him making plans with you again… to see his face light up when you walk into the room… to be back into his arms.
Imagine how good it will feel to have him whisper that everything is going to be alright… that the two of you are going to make it… that he wants to keep you forever.
This is one of the most powerful and successful methods out there for getting your man back because it actually mends what's broken and rekindles REAL passion and connection.
There are no games, guilt trips or sneaky tricks to drag him back only to have the same issues threaten your love again.
So if you want to stop imagining your happy ending and start actually experiencing his love, reconciliation and your new and improved relationship…
...if you want to feel that emotional relief, that overload of joy as he comes running back…
...to actually hold him in your arms again and know that things are going to be okay… in fact better than ever…
Then this is the most important knowledge you can possibly have.
And I urge you to get this now so you can start pulling your man back today...
Because the window to make things right won't stay open for long.
Everything you need to know, do and say to get your man back and have the best relationship of your life is right here.
Just click the button below to begin your "Relationship Rewrite"
Questions? Call 1-800-755-4364 or contact Support
---
Your IP Address has been recorded to ensure security and prevent fraud
ClickBank Marketplace is not a chartered bank or trust company or depository institution and is not authorized to accept deposits or trust accounts and is not licensed or regulated by any state or federal banking authority.
ClickBank is the retailer of this product. CLICKBANK® is a registered trademark of Click Sales, Inc., a Delaware corporation located at 917 S. Lusk Street, Suite 200, Boise Idaho, 83706, USA and used by permission. ClickBank's role as retailer does not constitute an endorsement, approval or review of this product or any claim, statement or opinion used in promotion of this product.