Sorry! This Forum Is Only For Members Of The Irresistible Insiders Program!
What Is The Irresistible Insiders Program And How Can I
Get Access To The Coaching Forum?
Hey there, it's James.
I'm excited to show you what's going on with the
Irresistible Insider's Program
.
Since you've shown interest in the coaching forum I wanted to take a quick moment to see if this is a good fit for you.
You see, one of the hardest things about painful relationship issues is getting through these tough times on your own.
So to completely eliminate that obstacle for you, I created the
Irresistible Insiders Program
.
It's here to provide you with all the support you could ever need, along with an ever growing wealth of relationship resources.
Now, I think you're going to love this program...
Because as an Irresistible Insider, you'll have completely access to over
$320 worth of Irresistible Insights mini-courses
that you can't find anywhere else...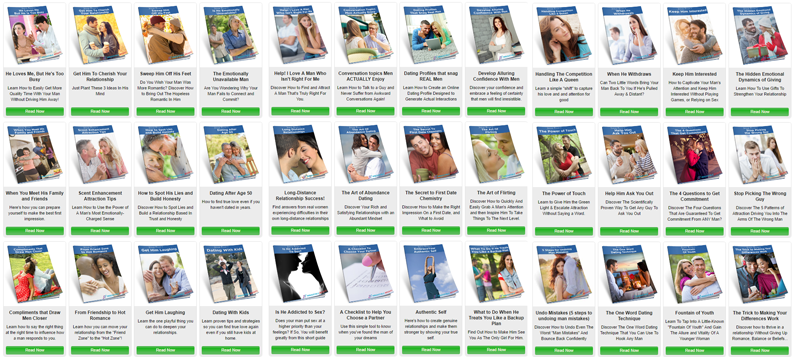 The picture above shows a sample of all the Irresistible Insider mini-courses you would get instant access to. Plus as part of this exclusive program you also get access to the future mini-courses, usually released by James monthly.
These mini-courses contain detailed, practical advice for every phase of your relationship (Even for the most challenging situations).
Plus
, every month you'll get instant access to each new mini-course right when it comes out.
But here's what you'll love most:
As an Irresistible Insider, you
get unlimited access to our exclusive coaching forum
, so you can get personalize relationship advice for your unique situation when you need it most.
My team of hand-picked relationship coaches are in there right now, ready to answer your questions.
I also personally drop in as often as I can to answer questions and offer my advice.
On top of that, there's a
community of like-minded women
from all walks of life. And they're ready to offer you support from their own experiences.
The point is, when you have this empowering community behind you, you're no longer alone.
And getting the relationship you want is all but inevitable!
And to make this the easiest decision possible, I'd like to offer you an unlimited
30-day trial
to this incredible program for just...
$1!
That's $1 for over $320 worth of mini-courses, coaching and community support...
But hurry! We want our coaches to be able to give everyone the attention they need. So once the forum fills up this offer will no longer be available!
To get started,

click the button below and claim your 30-day trial to the Irresistible Insiders Program for just $1!
After your 30-day trial, it's an easy $37.00 a month to continue your membership with this powerful program.
Of course, if you're not thrilled with your $1 trial of Irresistible Insiders like I'm confident you will be... You can cancel at anytime by sending an email.
I'm excited to welcome you to the family!
As an Irresistible Insider, you'll have the support and guidance to experience your very own inspiring love story. And we can't wait to hear about it!
Simply click the
"Add to Order"
button below and enjoy your 30-day trial to
Irresistible Insiders
for the incredible discount of $1
right now
!